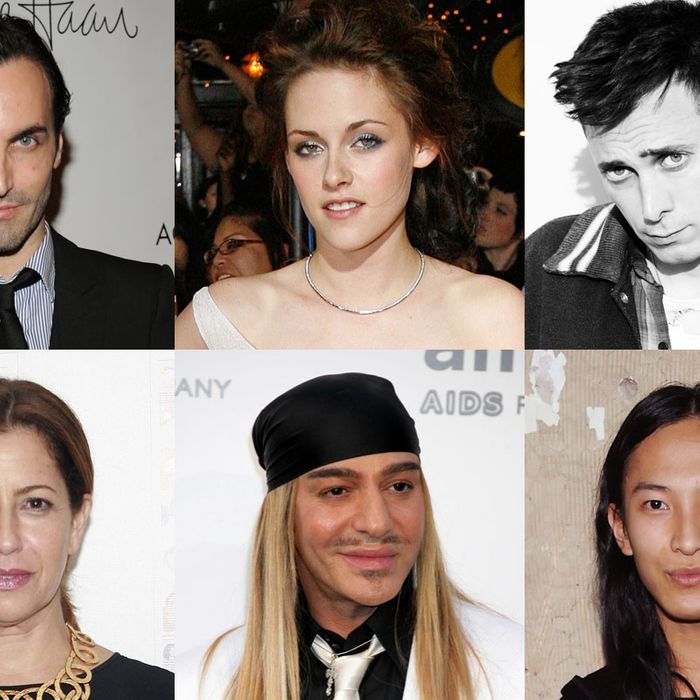 The suspects.
Photo: clockwise from top left: Fairchild Photo Service/Cond? Nast/Corbis; Mario Anzuoni/Reuters/Corbis; Getty Images; Jamie McCarthy/Getty Images for H&M; Stephane Cardinale/People Avenue/Corbis; Patrick McMullan
When it comes to fashion dramas, last season was a doozy. Cathy Horyn was publicly attacked by Oscar de la Renta, Lady Gaga, and Hedi Slimane. A publicist got slapped at the Zac Posen show. People really lost their heads, in other words. But onto the next season! With New York Fashion Week bearing down on us, we're already looking ahead to this season's major stories. Amid the racket of shows, dinners, parties, street-style photographers, and other hubbub that fashion month brings, here's exactly where to direct your attentions, if you can split it in eight places at once. Should fashion-related conversation fail you, just bring up one of these names and let the gossip commence.
John Galliano at Oscar de la Renta
Aside from a few hours in court in Paris yesterday, Galliano has spent the better part of the last few weeks at Oscar de la Renta's studio doing who knows what. Since his arrival in New York was announced on January 18, there's been nary a word about his activities, and only one brief sighting of him "working away in a secluded corner" of Oscar's atelier — even though he was "smiling and confident, like he owned the place."

So, what's he working away on? Will he make himself scarce during Fashion Week, or show his face at Oscar's show and pop into a couple of parties? Now that his lawsuit against Dior is moving forward, he may gear up to face the public again; he should take advantage of the platform he's been given and make some clothes that get everyone falling all over themselves to welcome his comeback officially.
Alexander Wang for Balenciaga
This will be hands down the most anticipated show of the Paris season, and Wang's eponymous label in New York will be even more closely watched than usual. Here's what to expect: Wang's catwalk has become the most boldly cast in New York in recent years, and Balenciaga has the same reputation in Europe; it's safe to assume his model choices in both continents will be over-the-top, even shocking. As for Wang's Balenciaga debut, he'll want to make his mark on the house without being too drastic. The fashion world remembers his predecessor, Nicolas Ghesquière, a little too fondly for the house's aesthetic to be turned on its head entirely.
Wang himself has avoided the public eye since his appointment at the French fashion house (surely because he's been working his ass off), but prepare yourself for the onslaught of major post-show profiles after his show wraps. And the Wang we know is still alive and well: His video with MADtv's Bon Qui Qui, released last week, was reminder to his die-hard American fan base that he hasn't forgotten about his roots.
Kristen Stewart at Balenciaga
Thanks in part to her partnership with Nicolas Ghesquière, the actress gained considerable red carpet cachet during her various press tours last fall. Since becoming a face of Balenciaga, she's always attended their shows in Paris. But now that Ghesquière has been replaced by Wang — noted Liberty Ross advocate (Ross walked in Wang's show in September, just a month after Stewart was photographed kissing her soon-to-be-ex-husband in the back of a car) — Stewart's allegiance may be in jeopardy. If she skips the show, her absence will speak volumes about her and Wang's relationship as well as her future with the brand.
Nicolas Ghesquière … where?
The newly unattached designer will spend his first season as a free agent since 1995. He might just be on a beach somewhere drinking mudslides (maybe with Kristen Stewart!). Or he might enjoy some parties and front-row seats for a change. Maybe he'll sow some seeds for his next move. Or do all three of these things.
Kristina O'Neil at WSJ.
The former Harper's Bazaar editor enters her first season as Deborah Needleman's successor at WSJ. O'Neill fills big shoes: The magazine put up a fight when Needleman decamped for T in September, as they enjoyed hefty profits under her stewardship. An unexpected choice for the position, O'Neill is known as a steadfast editor and generally nice person; she's now helming a magazine unencumbered by newsstand sales quotas but saddled with lots of pressure to please Wall Street Journal's executives and highest-paying advertisers. Her first WSJ. issue will come out this month. It's in the magazine's best interest to continue Needleman's momentum, but O'Neill should put her own stamp on it too, if she wants any glory.
Deborah Needleman at T
After much back-and-forthing with WSJ., Needleman replaced Sally Singer at T at the end of September and swiftly set about redesigning the magazine, which has suffered from declining ad pages over the past year. Her first issue comes out on February 17, and is expected to set a new tone for the publication. Her creative director, Patrick Li, characterized its new look as "Azzedine Alaïa," presumably meaning ageless and proper but with some whimsy. Meanwhile, Needleman has assembled a crackerjack team of editors, including Elle's Kate Lanphear.
Rather than pitting the new T against WSJ., a rather tireless comparison, it'll be more interesting to see how Needleman strikes out in her own direction, as compared to her former reign at WSJ. and, back in the day, at Domino. Her new T logo already made its quiet debut last week, and the Times has given her lots of free rein to make their former cash cow relevant and profitable again.
Raf Simons at Dior
Now that he's settled into his new role at Dior, putting out three successful shows (two couture and one ready-to-wear) and wooing critics, celebrities, and editors everywhere, he can pat himself on the back and relax a bit. His latest couture show demonstrated a slightly looser, even zanier sensibility, with those bubblegum pink tights and neon crystal flowers. Especially now with Galliano creeping back onto the scene (see above), perhaps Simons will step outside the box a bit — although, chances are he'll do what he does best and stick to those pretty, sculpted pieces that won everyone over to begin with. Either way, his show will be carefully watched.
Hedi Slimane at Saint Laurent
While the reviews of Slimane's debut Saint Laurent show were lukewarm, particularly in light of his disdain for critics, his designs have been an editorial hit. They've also been worn by all the right people — Kate Moss, Anne Hathaway, and Lady Gaga, to name a few. Although Slimane's brand makeover is still in progress, he has asserted his vision firmly as his items trickle onto the racks and his new logo makes its way onto doors and storefronts. How will he adapt it for round two? And will he be less prickly towards the press this time? Perhaps not, but his publicists might still shepherd him away from Twitter.