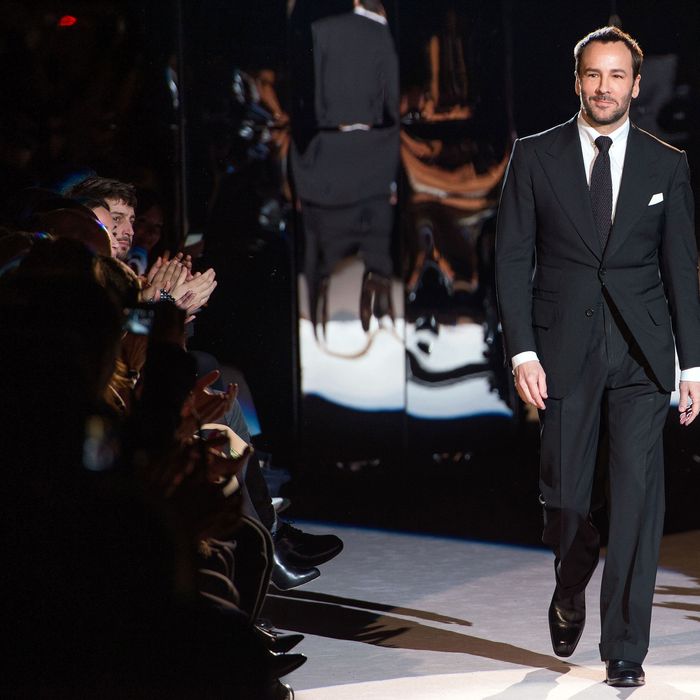 Photo: Samir Hussein/Getty Images
After several seasons of being frustratingly coy about his womenswear collections, then showing them only to an elite few and releasing images days or months later, last night Tom Ford finally gave the press what we wanted all along: the sexiest, most extravagant event of London Fashion Week.
Picture the most Tom Fordian scene you can conjure. Add 30 more male models (for, surely, you already had a few?) wearing black suits and side parts. Now put them all in a palace. There it is — Tom Ford in all his ostentatious Gucci-heyday form, with a properly flashy collection featuring sleek gowns and sequins.
It was clear from a first glance at Lancaster House, a nineteenth-century mansion attached to St James's Palace, that guests had arrived at the right address. The entrance was carpeted in black and flanked by flaming black podiums. As individuals approached the double doors, they were opened by two immaculately beautiful men. "Eyes Wide Ford," tweeted British Vogue's Emma Elwick-Bates, with an Instagram of the entrance.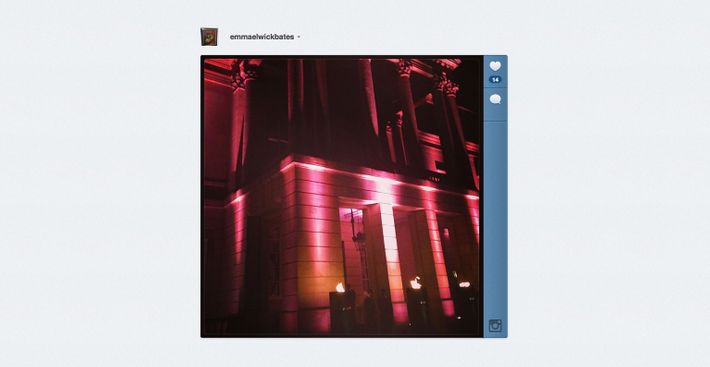 Inside there were dozens more models, holding trays of Champagne or simply standing in pairs around the room and at intervals up the sweeping staircase, hands clasped behind their backs, like well-dressed clones. Someone (it may have been me) asked one of them a question, and he looked so taken aback that one can safely assume these men were there solely as decoration.
At the top of those stairs, two ballrooms had been set up for the show. Justin Timberlake, Jessica Biel, Carine Roitfeld, and André Leon Talley were among those in the front row, their feet resting on a soft-as-a-teddy-bear carpet that fully absorbed one glass of Champagne, which Brad Goreski, in the second row, accidentally toppled over. "I'll take full responsibility," he joked, as if there might be a bill to pay.
With that carpet, the ornate painted ceilings, and gilt on just about any surface that looked like it would stay still long enough to be gilded, Lancaster House was the perfect backdrop for Ford's new collection, in which he has included everything one might expect: fur aplenty (and in every neon color and animal print), leather tassels, glittering jeweled "sportswear," and embellished knee boots. The cultural references varied from Mexican to Native American, and the end of the show came together with gleaming dresses and a flowing black lace gown that will be a sure hit on the Hollywood red carpets.
The only flaw in the slick presentation was that the timing seemed off, with narrow gaps between some models and longer intervals between others. As a result, the photographers repeatedly yelled "Go!" at models who hovered in spotlight too long at the end of the runway, leaving the girls behind them shrouded in glamorous darkness.
After the show, Ford stood in the doorway looking almost relieved to have pulled it off, thanking guests warmly as they filtered out. It was a shock for all to step out into the real world, where men don't all wear suits, and where the models were stubbing out postshow cigarettes in the parking lot.
Click below to view the Tom Ford fall 2013 collection.