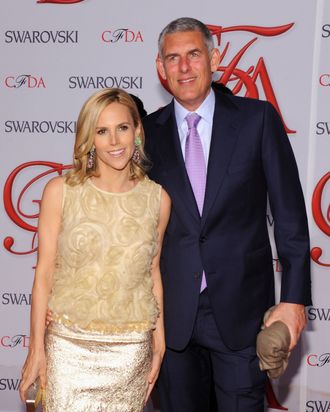 Tory Burch and Lyor Cohen.
Photo: Jamie McCarthy/Getty Images
Even though Lyor Cohen, Tory Burch's boyfriend of five years, attended her fashion show at the Pierre earlier this week, the Post reports that the pair has broken up. Sad, but apparently the split is amicable. According to the Post's "source," Cohen and Burch have "decided to take a break … But they remain close friends."
Cohen, 53, is the former head of Warner Music Group; he started his career as Run-D.M.C.'s road manager in the eighties, and later worked with Russell Simmons during the early days of Def Jam Recordings. He resigned from Warner in September, and is supposedly in the process of starting a talent agency. According to a 2002 profile in the Times, he once got so furious with Andre Harrell, the former CEO of Motown Records, for throwing him in a pool in Barbados that he took Harrell's new Louis Vuitton bag, filled it with his clothes and jewelry, and tossed it in the water. So it's good everything's cool between him and Tory, in other words.