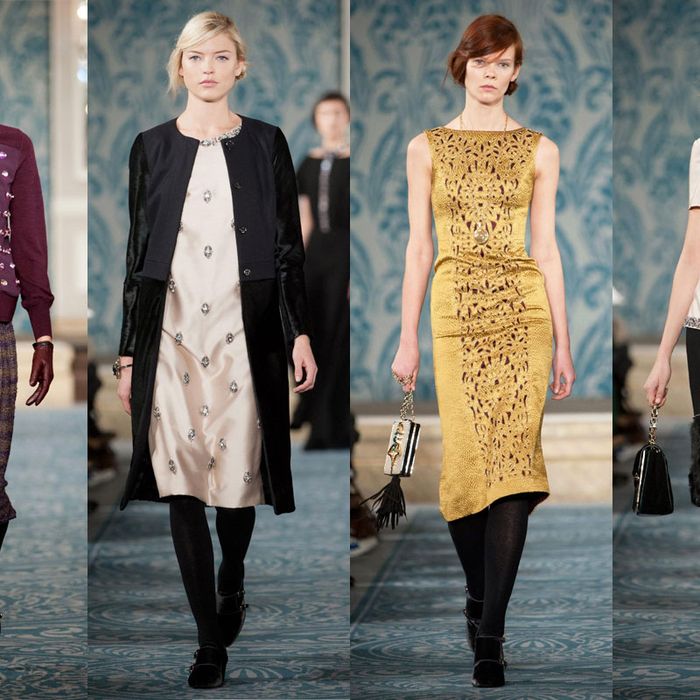 Rich looks from Tory Burch.
Photo: Imaxtree
Tory Burch has always staged her runway shows at CFDA-sanctioned venues (first Bryant Park, then Lincoln Center), presumably out of loyalty to the organization. But this season she did away with all that and held her show at the Pierre Hotel, one of Manhattan's most luxurious locations and also where she happens to live. Indeed, the whole thing felt like Tory was celebrating her upper hand in the legal settlement she reached with her ex-husband and former business partner Chris Burch the day before New Year's Eve — rubbing it in, even.
Set in a blue-and-cream, carpeted ballroom bedecked in chandeliers and lined with marble cornices, even the air felt expensive. The wallpaper — a floral, art nouveau affair — looked custom-made, as though Tory had ordered it to match her tunics. One half-expected to find wads of hundred-dollar bills crumpled on the floor near Anna Dello Russo's brand new Prada plat-flops. It was a lot to take in at 9 a.m.
The clothes themselves were rich-looking, too, rendered in thick, soft fabrics and studded with paillettes and beads. All the models wore their hair twisted into refined little rolls behind each ear, like a parade of sophisticated Princess Leias. There were crystal-embroidered tweeds, milky satins, and sparkly, laser-cut gold overlays. The sweaters were trimmed with jewels, and the  fur coats were thick and plush.
Was it ostentatious? Sure! But after days of wading through slush to sit on benches in cold warehouses and watch bulky gray sweaters plod by, it was rather nice to see a collection be unapologetic about the people who will buy it: rich ones.
See the complete Tory Burch fall 2013 collection.
Update: A rep from Tory Burch states: "The show's venue was booked in October and was chosen because of the theme of the collection. The price of the venue is comparable to all of our previous seasons' venues."