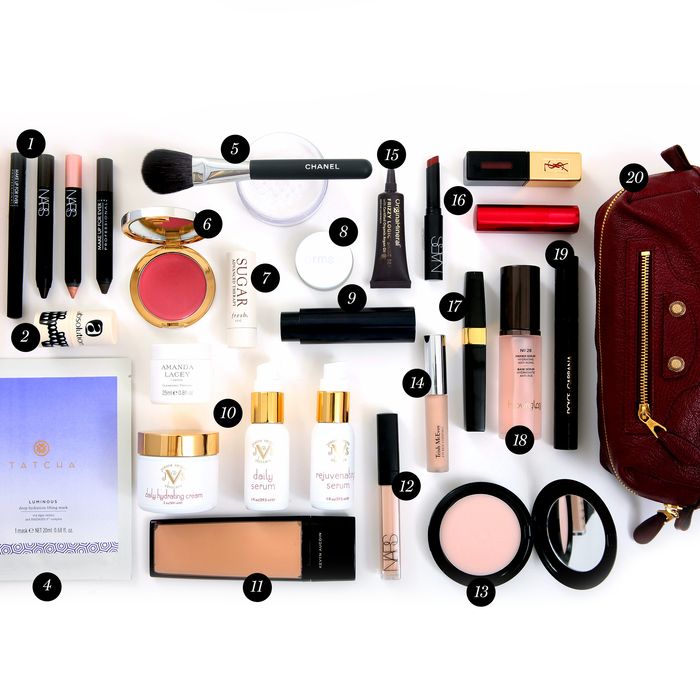 Photo: Melissa Hom/New York Magazine
Starting on Tuesday, get ready for fashion and backstage beauty dispatches from the Paris shows. But before we get all French-ified (don't worry, we will visit a French pharmacy), here are all the beauty essentials from our home bathroom that'll travel to our hotel rooms by the Tuileries Gardens. Because one of us is a beauty editor and the other a no-fuss type, we've tried to compile two well-edited beauty strategies to match each of our requirements. In Christina Han's case, that means multiple shades of eye crayons and lipsticks, because you never know when the need for a quick smoky, charcoal eye and nude lip or a crimson pout with a liquid-lined eye look will arise. In Stella Bugbee's case, it means one great lipstick palette, a strong scent, and the ultimate dry shampoo. Click ahead and zoom into the photos for the complete breakdown of each product.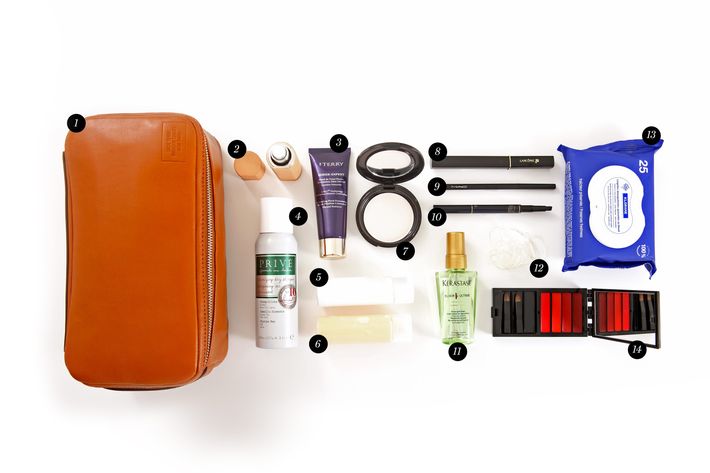 The Minimalist: Stella Bugbee, Editorial Director

1. Jack Spade Mill Leather Zipper Top Dopp ($155): Men's dopp kits are my favorite for their no-nonsense, easy access, utilitarianism, and durability.

2. Byredo Natural Leather Travel Case, $120 and Byredo Gypsy Water Eau de Parfum ($110-$220): I'd forgo a lot of things in order to bring my perfume because it simultaneously reminds me of home and can take care of weird hotel odors or mask the need for a shower. With fifteen events a day, that is a priority.

3. By Terry Sheer-Expert Perfecting Fluid Foundation ($65): Makes you look flawless and radiant in about two minutes.
4. Prive Volumizing Dry Shampoo ($29): Like a proper Parisian, I plan to wash my hair infrequently, unless things get really gnarly. So I'm taking this travel-size bottle (I might also have one at my desk, ahem) for the in-between days.

5. and 6. Muji PET Cylinder Bottle with Snap Cap ($1.25-$1.95): Muji just gets the streamlined thing right. I'll fill them with the two mainstays of my skincare regime: Cetaphil gentle everyday cleanser and MetroLotion.
7. Shiseido Translucent Pressed Powder ($32): On the road, I like an old-fashioned compact to slip into a clutch to keep my nose from shining.
8. Lancome Definicils Mascara ($27): Day or night, I like a subtle swipe of mascara with just enough blackness and length.
9. MAC Eye Brows in Spiked ($16): Self-sharpening and long-lasting in the perfect dark, ashy brown.
10. Cle de Peau Eye Liner Pencil ($30): Smooth to apply, this slim eyeliner even looks good smudged all over my lid after a long day.
11. Kerastase Elixir Ultime Moringa Immortel ($54): Every night I put a teaspoon full of nourishing hair oil on my dead ends to keep my hair smooth and shiny.
12. Goody Clear Hair Rubber Bands ($4.56): See: not washing my hair much.
13. Klorane Soothing Makeup Remover Wipes ($11): Good for a one-stop wipe that takes the whole mess off each night after a packed day.

14. Serge Lutens The Ultimate Red Collection: Lip Palette ($160): Nothing brightens up a tired face like a red lip, so after a long flight, I'll use the tiny lip-brushes in this slim case to apply one (or more for a custom color) of the four shades of rich, silky red. I won't need anything else for the rest of the trip.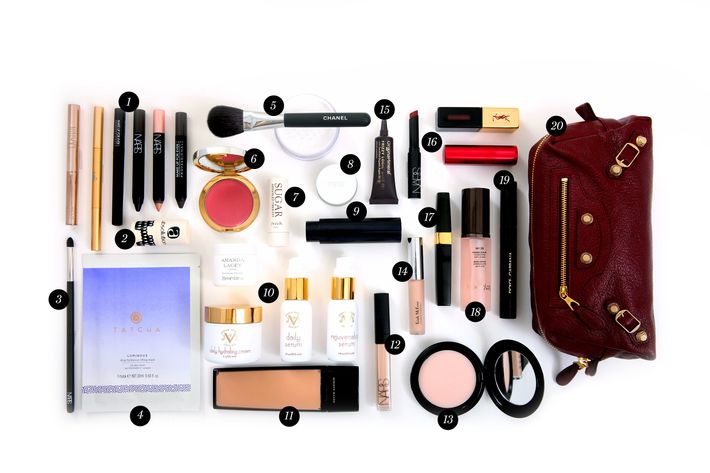 The Maximalist: Christina Han, Beauty Editor

(Click on the image at the top of the post to zoom in on these products)
1. Eyes: A collection of easily blendable eye crayons that can also double as liners, and I'll pack a liquid liner in case I feel like getting fancy. I never go out into public without my brows filled in. 
From left to right: Top Shop Crayon in Equinox, Sania Mechanical Eyebrow Pencil ($25), Make Up For Ever Aqua Liner #13 ($23), Nars Soft Touch Shadow Pencil in Aigle Noir ($24), Nars Soft Touch Shadow Pencil in Goddess  ($24), and Make Up For Ever Aqua Shadow #4E ($20).
2. Absolution Le Baume ($20): My vice is picking my cuticles, but this will keep them as moisturized as possible.
3. Nars Eye Contour Brush ($28): Eye crayons eliminate the need for a bundle of brushes but this can help blend the colors, should I need to.
4. Tatcha Deep Hydration Lifting Mask ($20): If I'm awake before we land, I'll slap this on my face before deplaning. Otherwise, it'll be the first thing I'll do (after a shower) once I'm in the hotel room.

5. Chanel blush brush ($54) and By Terry Hyaluronic Hydra-Powder ($59): The powder gets buffed into the T-zone to minimize the shine. Once applied in the morning, I won't have to retouch.
6. La Prairie Cellular Radiance Cream Blush ($70): I live by this blush.
7. Fresh Advanced Therapy Lip Treatment ($25): Simply addicted and will reapply many times throughout the day, unless I'm wearing a lipstick.

8. RMS Living Luminizer ($38): Miranda Kerr and Gisele definitely use this because it's made by their makeup artist pal, Rose-Marie Swift. I use it on my cheekbones to make my face look radiant when I'm feeling tired.
9. Terveer Gardenia Perfume Oil ($185): My newest fragrance obsession.
10. Skincare:
Every night, I take off makeup and cleanse with Amanda Lacey Cleansing Pomade ($100), then immediately follow with the antioxidant-rich Joanna Vargas Rejuvenating Serum ($100). In the morning, I'll just rinse my face with water and apply Joanna Vargas Daily Hydrating Cream ($75) followed by Joanna Vargas Daily Serum ($85).
11. Kevyn Aucoin The Sensual Skin Tinted Balm in SB03 ($48): This easily blendable, mousse/cream hybrid matches my skin tone so perfectly that I really only need to dab some on my cheeks and chin to even out my complexion.
12. Nars Radiant Creamy Concealer ($28): I arrive on a red-eye. Yes to this.
13. MAC Prep + Prime Skin Smoother ($29): It's makeup-artist approved and the only thing that'll temporarily make the dry patches on my cheeks disappear.
14. Trish McEvoy Eye Base ($25): For no-eye-makeup days, this is great for evening out my lids for that no-makeup-makeup look. Then my lids will already be prepped for shadow and liner if I choose to go down that path later in the day.
15. Original Mineral Frizzy Logic Shine Serum ($9.95): It smells like a tropical vacation, which will put me at ease while in the madness of backstage reporting.
16. Lips: These are my staples and each are wearable for both day and night. From left to right: Nars Pure Matte Lipstick in Mascate ($26), YSL Glossy Stain in Brun Glace ($34), and Shiseido Perfect Rouge Tender Sheer lipstick in Society ($25).
17. Chanel Inimitable Mascara ($30): I like the lengthened, "clean" mascara look for day.
18. Hourglass No. 28 Primer Serum ($65): Instead of redoing my whole face of makeup in the evening, I'll just dab this on over my cheekbones to give my skin new life.
19. Dolce & Gabbana Intenseyes Black Intensity Mascara ($32): I'll layer this over the Chanel mascara for an intensified mascara look for evening.
20. Balenciaga makeup bag: My trusty, lined, spill-proof makeup bag. This one is no longer available since I got it a few years ago, but similar ones are available here.