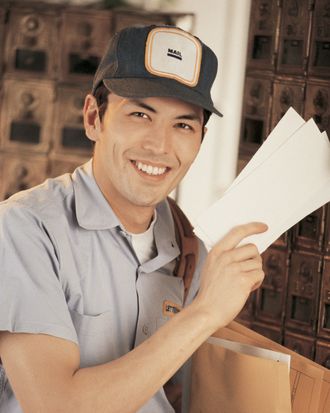 Acclaimed fashion designer the U.S. Postal Service is working on a collection of apparel and accessories called "Rain Heat & Snow," according to a press release. The moniker comes from the group's unofficial motto, "Neither snow nor rain nor heat nor gloom of night stay these couriers from the swift completion of their appointed rounds." (Also, "Earth, Wind & Fire" was taken.) Instead of asking Saturday employees to submit designs, the USPS turned to Wahconah Group, Inc., a Cleveland-based company that is about to get a shit-ton of junk mail.
So, what can we expect from Rain Heat & Snow? Steven Mills, Postal Service corporate licensing manager, said, "The main focus will be to produce … apparel and accessories using technology to create 'smart apparel' — also known as wearable electronics." Spokesman Roy Betts told Yahoo! News, "If you like your iPod, you can plug it right into your jacket, regulate the volume and make your selections right on your sleeve." If you don't like your iPod, you don't have to. "For now, it's all-weather, all-season clothing for men, ranging from headgear, footwear, jackets, coats and shirts," Betts continued. "There will be something recognizable that identifies the product with the Postal Service."
And, yes, Wahconah is opening a showroom in the garment district to hopefully place the "product in premier department and specialty stores," reads the release. Rain Heat & Snow plans to eventually add a women's line, but the who's who of fashion have been wearing menswear for seasons. Mailmenswear is sort of the same idea, right?