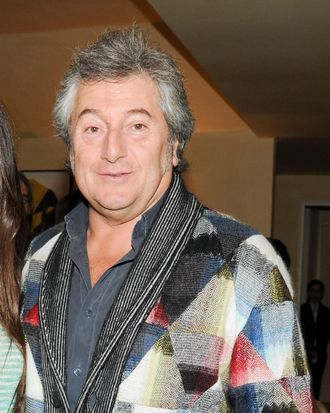 Photo: Joe Schildhornnyc.com/BFA
Since January 4, when the aircraft carrying Vittorio Missoni, his wife, two friends, and two pilots disappeared near Los Roques (an archipelago off the coast of Venezuela), the only trace of the plane has been a bag of kite-surfing equipment found in Curaçao. It belonged to tourist Giorgio Neri, who stowed his gear on the fashion mogul's plane because there wasn't enough space on his own, which took off right after Missoni's. On January 10, a German tourist happened upon the bag — empty at that point, but tagged with Neri's info — and alerted the Missoni family.
Now, WWD writes that a second piece of luggage has washed ashore on Bonaire, a Caribbean island located between Los Roques and Curaçao … with Vittorio Missoni's name on it. According to Italy's Corriere della Sera, Franklin Antoin, a reporter attempting to trace the flight's path, found Missoni's backpack or wheeling suitcase (specifics differ) on the isle's southeastern coast February 10. So far, the Missoni family hasn't commented on the development.
Related: Report: Bag Stowed on Missoni Plane Found in Curaçao
Missoni Pilot Was Licensed to Fly
Missoni Pilot's License Was Expired
Missoni Menswear Walks in Milan
Body Found Off Coast of Venezuela Unrelated to Missoni Disappearance
Good Morning America Has Last Look at Vittorio Missoni, Plane Before Disappearance
Vittorio Missoni's Son: 'My Father Will Come Back'
Venezuela: Missoni Wasn't Kidnapped
Pilot Says He Watched Missoni Plane Vanish [Updated]
Angela Missoni: 'Our Hope Is That' Vittorio 'Is Still Alive'
Plane Carrying Vittorio Missoni Has Gone Missing