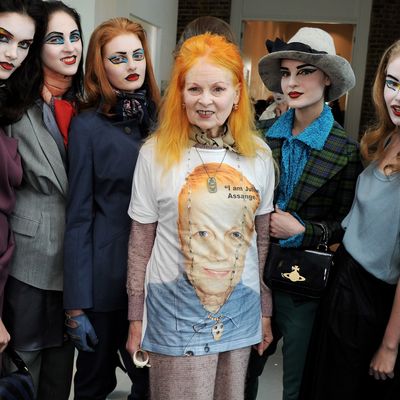 Photo: Dave M. Benett/Getty Images
Backstage after this weekend's Vivienne Westwood Red Label show, the designer was at the center of a mob of journalists so fierce that even Bryan Adams had to wait patiently on the sidelines to congratulate her. "Vivienne said she doesn't want to do interviews after the show," her PR representative told us, "but I know she will."
And boy, did she. Known for her political activism as much as for her punk fashion, Westwood had included the Climate Revolution Charter with her show notes. It was a manifesto arguing that economic problems and climate change are inextricably linked. Or to quote it more directly: "Climate crisis and economic crisis are like serpents who eat each other's tail."
With that argument fresh in your mind, here are the five most strangely Westwoodian quotes the designer gave to our questions and those of other journalists, in ascending order of Westwoodian-ness.
5. "Our clothes [from Vivienne Westwood Red Label] tell stories and make people feel like characters. I think that gives people an extension to their personalities, and they start to discover things about themselves."
4. "The sexiest people are thinkers. Nobody's interested in somebody who's just vain with a hole in their head, talking about the latest thing — there is no latest thing. It's all rubbish."
3. "You've got to invest in the world, you've got to read, you've got to go to art galleries, you've got to find out the names of plants. You've got to start to love the world and know about the whole genius of the human race. We're amazing people."
2. "The financial crisis is proof that we cannot exploit the world anymore. If we can make people understand that if they want more money, they've got to do it through the climate, then we will save the planet."
1. "The main message we want to get out there is that climate change is caused by the rotten economic system. If we don't change public opinion, we're going to have mass extinction of the human race very, very quickly, in two or three years."
Now excuse us while we pour a stiff drink and let that last one sink in.
Click below to see the Vivienne Westwood fall 2013 collection.