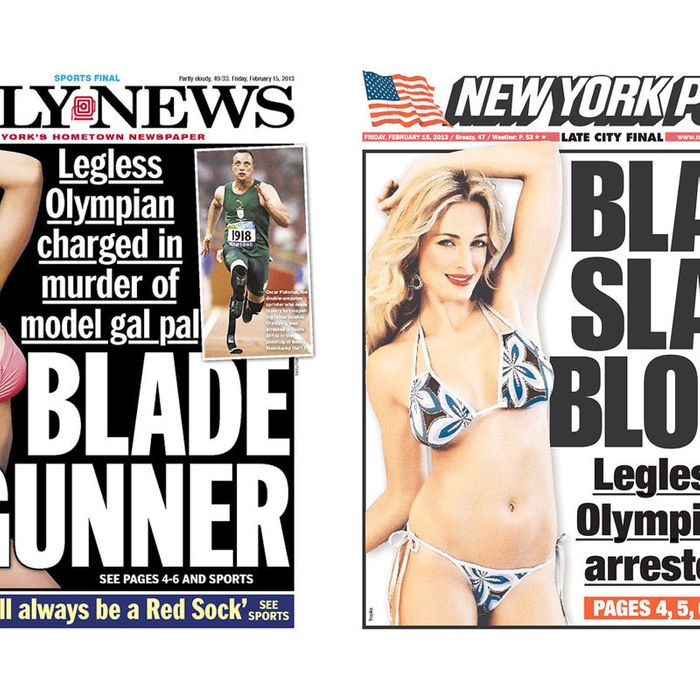 Photo: Daily News, New York Post
We don't hold New York City tabloids to impossibly high standards for tastefulness. Nor are we naïve about the media's disproportionate interest in violence against famous people and/or young, beautiful white women. But it is worth noting that when covering the alleged murder of model Reeva Steenkamp by her boyfriend, South African Olympic hero Oscar Pistorius, both the Post and the Daily News went with not just the bikini shot but the hair-tousling, arched-back bikini pose. Especially considering the dark direction the case is taking.
After early reports that Pistorius had accidentally killed Steenkamp, mistaking her for an intruder (a problem Pistorius had gone on the record about, probably to his lawyer's immense relief), police have now confirmed that they'd been called to Pistorius's gated community home for domestic incidents in the past. A local paper reported that neighbors called the police over a loud argument two hours before Pistorius reportedly shot Steenkamp through a bathroom door. Other women who have dated Pistorius (or their moms) took to social media with differing accounts of Pistorius's treatment of women and, obviously, the jury is still way, way out on Pistorius. We just wanted to say that if we ever get a famous boyfriend and then he kills us, please, newspapers, go with the one where we're wearing the sweater and the top knot.