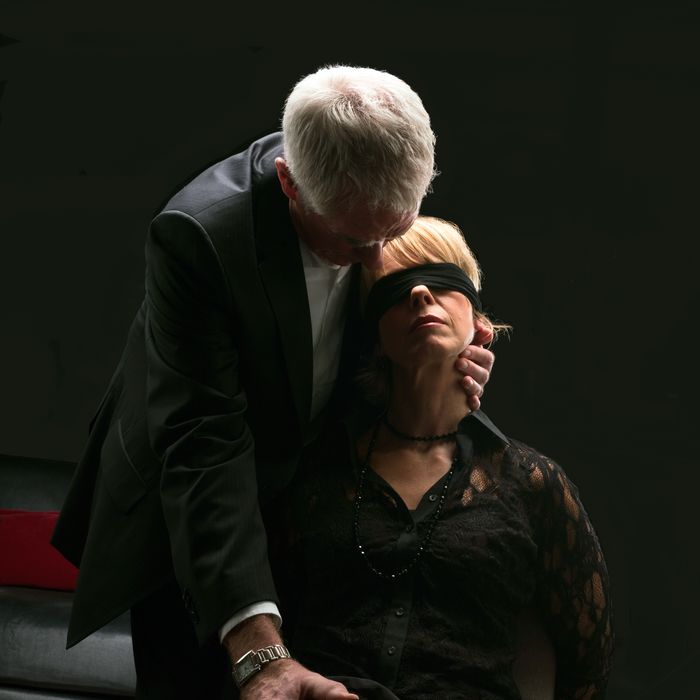 You can probably predict most of what's written in today's New York Times story on the mainstreaming of kink. Fifty Shades of Grey made it so that everyone and their mom (especially their mom) could feel safe owning up to their desire to tie one another up, which makes the BDSM old-timers a little territorial, but mostly excited, because maybe our widespread enthusiasm will make their unjustly pathologized lifestyle more socially acceptable. (It would be nice if they couldn't lose child custody over it, for one.)
But what the Times story does reveal — though it never explicitly states it — is how fundamentally geeky BDSM is. Or rather, that the lifestyle shares many attributes of other nerd subcultures. Even safe words are kind of dorky, if you think about it — a word so silly you would never say it in the course of regular sex. One of the Times sources, "Deb," is a lifelong Mets fan, so hers is "Yankees Rule," because "she could only utter it under extreme duress." It's enough to make you wonder if BDSM is just being DTF for the LARPing set.
It requires costumes and gear.
One nerdy hobby trope is that they all require a lot of specialized gear, equipment, costumes, or clothing, which are valued on a scale of quality,  expense, originality, or historical accuracy. The Times mentions paddles, floggers, rigs, chains, cages, benches, and single tail whips, but does not even broach the leather/latex/harness fashion component. (Here you thought the great thing about sex was that it was cheaper than seeing a movie and had a laxer dress code than most restaurants.) Nerdy activities that rival BDSM in terms of the gear include Renaissance fairs, historical reenactments, high school musicals, and fox hunts.
It has its own acronyms and arcana.
There is a high correlation between the nerdiness of an activity and the number of acronyms you need to memorize in order to participate. For example, World of Warcraft employs 288. The Times hints at an "alphabet soup's worth" of terms in BDSM — itself an acronym for Bondage, Discipline/Domination, Sadism/Submission, Masochism — but only mentions two. We'll list them here in order of funniness, least to greatest: OTK (over the knee, the better to get spanked), ABDL (adult baby, diaper lover).
There's some actual overlap with science fiction and fantasy.
Susan Wright, a community manager for bondage site FetLife and spokeswoman for kink awareness group National Coalition for Sexual Freedom quoted by the Times, is also the author of nine Star Trek novels. And let's not forget that Fifty Shades began as Twilight fan fiction!
There's no pressure to drink, do drugs, or have sex.
While it doesn't shock us that the Times didn't score access to the darkest, sexiest private BDSM parties in town, we did not expect the club they did visit, Paddles, to so closely resemble a Discovery Zone."[T]here are black walls and a mural featuring a cartoon woman in thigh-high red boots standing with a stiletto heel on a man's back. The bar, called Whips and Licks Cafe, does not sell alcohol, but coffee, sodas and Italian ices, giving the atmosphere an unexpectedly wholesome feeling." Indeed, oral sex and intercourse are not permitted in the dungeon.
Harvard kids do it.
As was previously reported, Harvard's Munch, or kinky interest group, was officially recognized by the university. Not that its members are ready for total recognition. They asked not to be quoted by name in the Times because they were "interested in politics," i.e., still plan on running the world one day. And, sigh, they probably will.