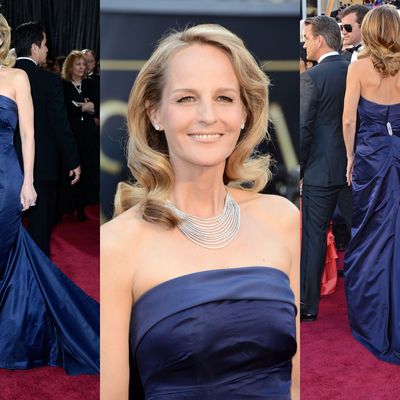 Helen Hunt's H&M dress.
Photo: Getty Images
In a sea of Armani, Valentino, Marchesa, and Dior, Helen Hunt announced on the Oscars red carpet that her dress was H&M. "That's great, I drove by it on the way!" responded Ryan Seacrest, semi-joking (but not really). Would we have noticed the slightly wrinkled skirt, bunchy waist, and dull fabric had she not pointed out her dress's origins? Perhaps not, but our subconscious snob can be hard to gauge. She also paired the dress with gobs of expensive jewelry ($700,000 worth, from Neil Lane), Roger Vivier shoes, and a Salvatore Ferragamo clutch, so she didn't exactly slum it. 
But the question remains why Hunt decided to go with H&M. Throughout awards season, she's worn designer pieces by the likes of Dolce & Gabbana and Ramona Keveza, and Oscar nominees always get courted by top-of-the-line labels (as evidenced by her fancy accessories). She told Seacrest that she chose the dress for its ecofriendliness — H&M recently launched a partnership with environmental group Global Green. But there's also a possibility that H&M paid Hunt to wear it. When the Times asked H&M's head of design, Ann-Sofie Johansson, if that was the case, she wouldn't answer: "We had an agreement, and both parties were satisfied, but as a business matter we will not give details."
Of course, red carpet outfits are always "a business matter" these days, and paid celebrity endorsements are par for the course — see Jennifer Lawrence and Charlize Theron in Dior, for example. However, it's rare for a mass brand to join the fray, and one wonders exactly how H&M roped Hunt into the deal (or perhaps the question is, how much). The brand has good reason to broadcast their formalwear offerings, according to the Times:
H&M plans to introduce a "red carpet" collection in some stores, beginning April 4. You won't find the exact dress Ms. Hunt wore, but Ms. Johansson estimated such a look would cost about $650, had Ms. Hunt bought it off the rack.
So it's not exactly "affordable," but still costs thousands less than the couture gowns her peers wore. Not that anyone paid for a single dress, of course.