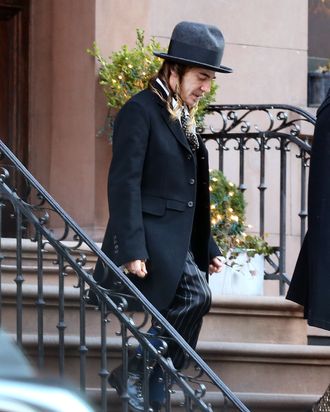 Galliano's offending outfit.
Photo: Splash News/Corbis
The so-called "Hasidic" outfit that landed Galliano on the front page of yesterday's New York Post with the headline "SCHMUCK" has now been fully identified, courtesy of his publicist Liz Rosenberg. She wrote in an e-mail to WWD:
Regarding his attire yesterday: As you well know, John has worn big hats and long coats for many, many years … He indeed has long curly hair, and I can understand people/the NY Post misinterpreting his look at the show. But I can assure you there was no intent to dress in a Hasidic style, to present himself as an homage to the Hasidic community or to insult the Jewish culture or pay tribute to people in 17th century Poland on John's part — consciously or unconsciously. His attire included a Steven Jones hat, Yohji Yamamoto trousers, Brooks Brothers shirt, Dolce & Gabbana vest. In other words — fashionable. The last thing on John's mind would be to do anything that would offend the Jewish community.
"Fashionable" may not be the best adjective, but these things are subjective. Meanwhile, the Post reported on themselves, interviewing fashion "mavens" Kelly Bensimon, Kelly Cutrone, Robert Verdi, and Patricia Field about their own front page. (Interestingly, all these people have been on Bravo reality shows except for Verdi, who was on TV Land. Coincidence?) The most illuminating quote came from Cutrone, unsurprisingly:
"I just think it really lacks elegance and consideration," Cutrone said. "You would think that [when] one of the world's most famous fashion designers [Oscar de la Renta] invites you into a city that was built by Jews, that you would be sensitive to that. If he's so creative, I don't understand why he couldn't create a new hairstyle that said, 'More Jews in Israel.'"
And with that, let's move on, shall we?