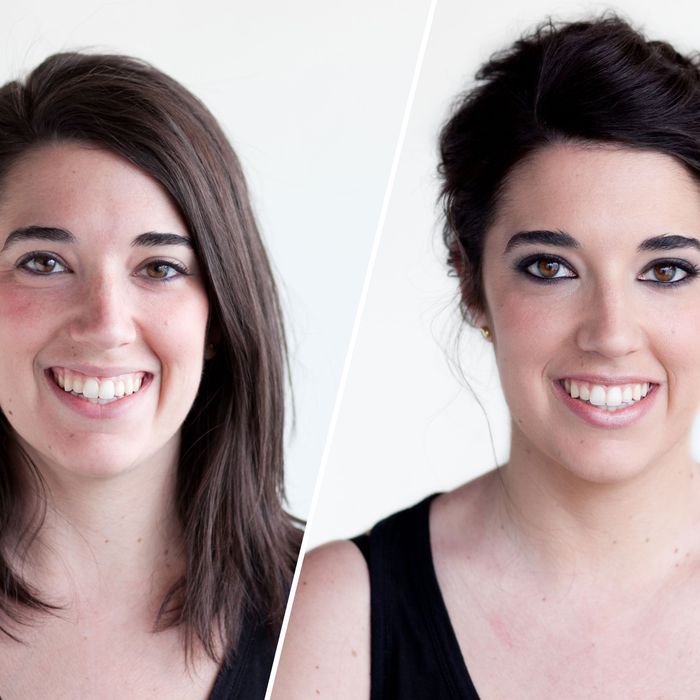 Makeup artist Mai Quynh starts plotting her Academy Awards plan of attack as soon the contenders for the Dress are picked out. Having worked with Reese Witherspoon, Jessica Chastain, and Kristen Stewart, Mai knows the drill: The stylist sends images of final dress options to the hair and makeup teams, who then start throwing out ideas instantly and e-mail reference photos to the client. "I'll pull [pages] — mostly editorial, from online, or sometimes I'll pull other red carpet images, but I feel like some actresses don't like copying another actress, so I [re-do] it on a model," she says, laughing.
In Mai's work, she likes to play up a single feature; because she's usually worked with the client before, she already knows what the actress wants to highlight. Because I am a newbie when I visit her — pretending that I, too, have an award show to attend Sunday night — she has to ask me whether I want eyes, lips, or both."I'm more of an eyes kind of person," I say, my voice rising at the end to alert her to the fact that I actually have no idea. We decide on eyes.
Normally this all goes down at the celeb's house or hotel room — and it sounds like a party. There's hair, makeup, a stylist, PR, and assistants, all on a mission, trying to get their hands in any opening near the face. You're supposed to attend this party with a clean face, apparently. "Do you have, like, leftover blue eyeliner on?" She asks, pausing as she cleans my skin. "Oh, yes?" I laugh awkwardly. "Did you do something last night?" she asks, clearly expecting me to have attended a David Bowie appreciation party or some such. It's a good thing I don't show up with any glitter on my face, as that's another red-carpet no. "Things with chunks of glitter or sparkle look too shiny or too young," she explains — especially when they're photographed.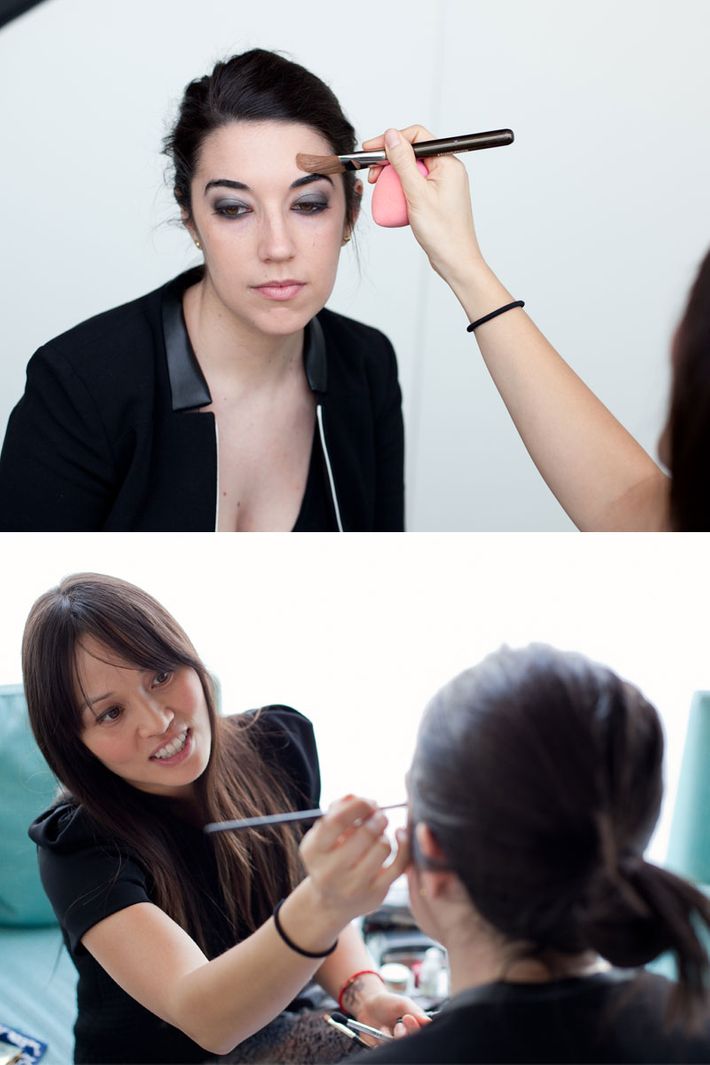 While we're chatting, Mai is creating a mini-masterpiece on my eyes, layering shadows, applying eyeliner to my waterline, and adding individual lashes. She's chosen the colors based off the hue of my dress (which, until tomorrow's post, is Top Secret), taking into account the accessories that have been chosen and even how my hair will be styled. After applying foundation — it's a lightweight cream, so it won't smear during my sweat-inducing imagined encounter with Bradley Cooper — plus a layer of cream blush under a powder color and a nearly nude lip color, Mai pronounces me done. It's taken her just under an hour. I'm not allowed to see myself yet, but decide to take the oohs as meaning I look damn good.
Midway through eyelash application, the blonde, pixielike Mara Roszak joins us, looking like Santa Claus after robbing a Sally Beauty Supply. After plugging in her many tools, the hair master launches into her game plan: "My vision is up and off your face into a pretty, tousled, effortless bun in the back." Effortless is a funny word to use here, given what's about to go down. Hating to disappoint, I give her fair warning, "My hair can't really hold a curl." But Mara has a Tim Gunn–style approach to hair: With the right products in the right amounts, you can make it work with most hair.
After she wets my locks and blow-dries it (I had generously left it unwashed, based completely on my own sad DIY experiences, but she prefers it newly clean and wet so that a part hasn't formed), she applies some hairspray and starts attacking sections with a curling iron. As she slowly moves in a circle around my head, the party gets going. Mai calls Mara by the nickname of  "Shrimpy," and shows her a picture of the dresser she's going to buy. We talk about Downton Abbey and Mara feeling starstruck doing Michelle Dockery's hair for the SAGs, then about the makeup look Mai created for Jessica Paré, and how much Los Angeles water sucks for a woman's hair. At this point, though there's no mirror, I can feel that I look like a Chia Pet. "This process is not a very attractive one," the hair artist herself admits. "When someone has to get up to go to the bathroom we're always like, No, don't look at yourself in the mirror!" Mai confirms. My self-confidence soars.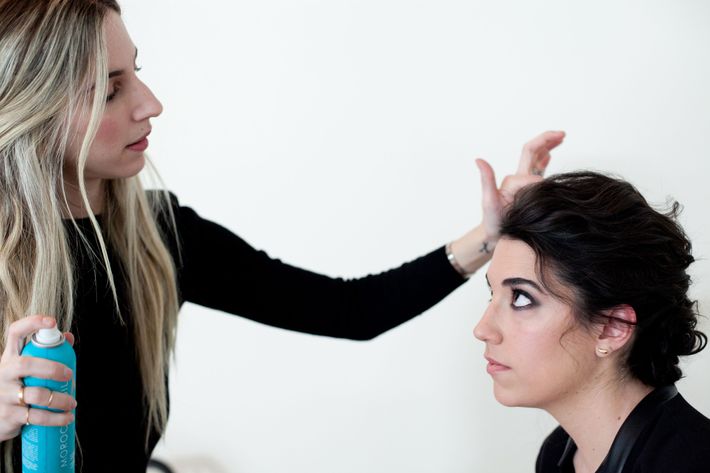 Even though I have no plans of getting up on stage in a matter of hours to thank my mom and Harvey Weinstein for believing in me, I still feel nervous about how I look. Mai and Mara not only see their clients in an incredibly intimate moment — wearing only a towel, most likely hyperventilating into a sock — they're put in almost complete control of how the actress will come across in front of millions of people. Both agree that they don't follow trends because once it's a thing, it's basically over. Mara, who had originally thought about keeping my hair down and styled to the side, decided against it because so many stars had just done that for the SAGs.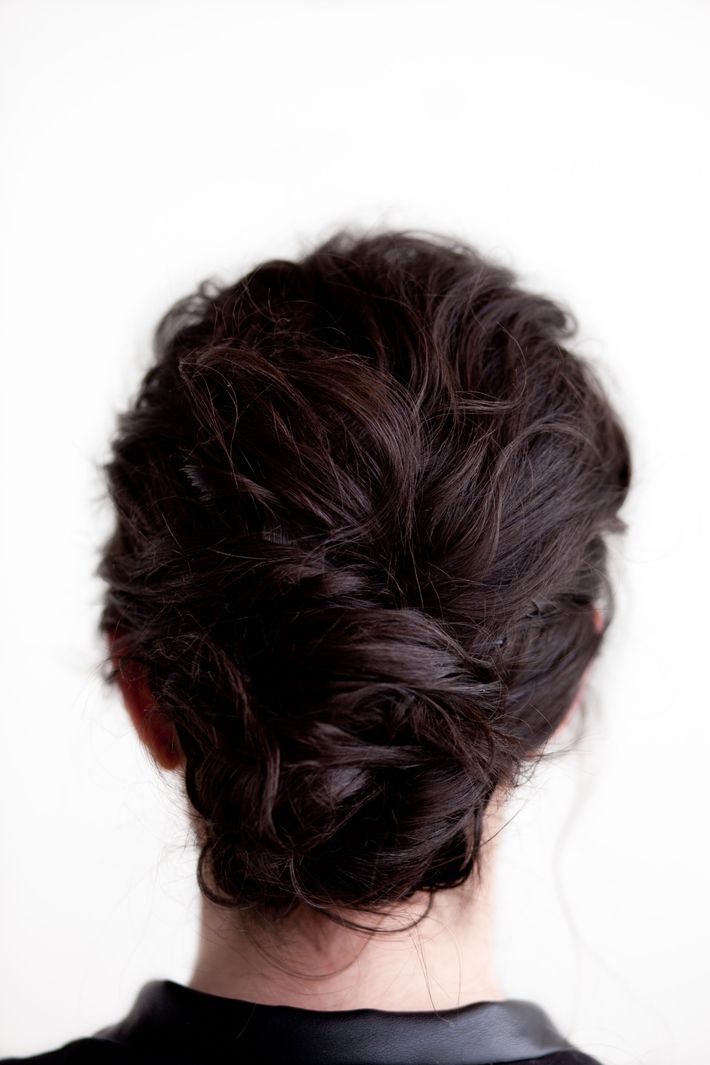 Instead, she starts twisting the hair in the back, letting it curl into a shape, and secures it with about a zillion bobby pins, the bulk of which I only discover when I'm de-beautifying myself hours later. Then she works strands from the front into the bun to produce more volume. After covering my head in a fog of Moroccanoil hairspray, she is finished. Another hour has gone by. If it was truly the morning of the Oscars, they would have shipped me off with an emergency kit containing lipstick, blotting papers, and more bobby pins. But even for the "after" picture above, the two women still hover around me, hands darting in and out like Red Bull–infused monkeys tweaking, re-powdering, and telling me to stand up straight.
"And look at that, your hair curled," Mara finishes by saying, proud of herself. I think back to the hairstylist who crushed my dreams in high school, saying he couldn't give me beachy waves in time for prom. Look at me now, sir, look at me now.
Check back in tomorrow to read the final installment of our ongoing Oscar prep story: the Dress. Plus, see Monday's post on getting an Oscar body with a celebrity diet and fitness routine, Tuesday's on liposuction, and Wednesday's on skincare.