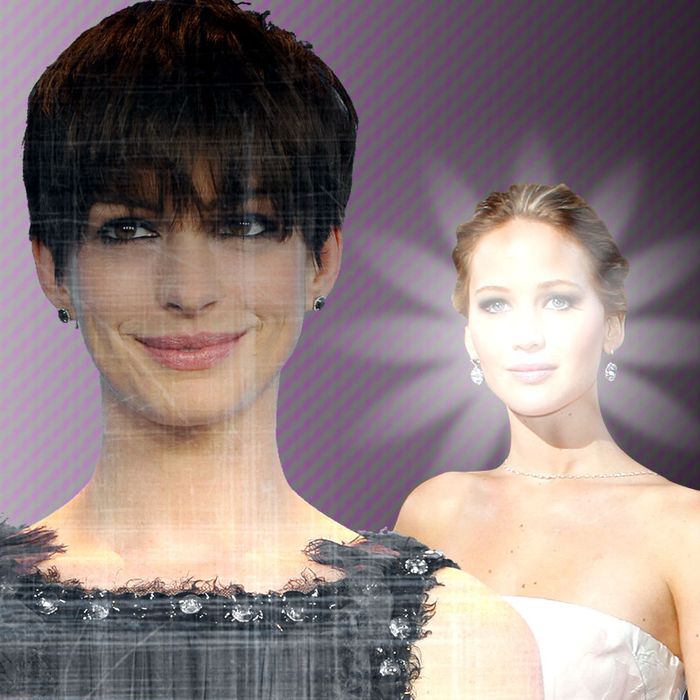 I can't figure out why I don't like Anne Hathaway. Or rather, why we don't. In all the social-media fallout from the Oscars, the Best Supporting Actress winner also almost won Most Detested Figure of the Night, finishing just behind Seth MacFarlane and the idiot at The Onion who tweeted a slur about 9-year-old Quvenzhané Wallis. "And what the Onion missed is that it's Anne Hathaway who's the real cunt. Right EVERY WOMAN ON THE INTERNET?" tweeted Buzzfeed's Jack Moore.

Unlike most strangers I claim to dislike (most conservative politicians, some friends' ex-boyfriends, and the aforementioned MacFarlane), Hathaway and I would probably get along swimmingly. She seems smart and self-possessed, savvy and successful. She's a spokesperson for Eve Ensler's anti-violence organization, One Billion Rising. And have you seen the clip of her shutting down Matt Lauer's creepy questions about her upskirt moment with a measured response about the commodification of female sexuality? It is on point. Yet she leaves me cold.
Does EVERY WOMAN ON THE INTERNET baselessly hate Anne Hathaway? I took a quick straw poll. "She is that theater kid with good intentions but secretly annoys the shit out of you," said one friend, adding, "You want to be excited for her and you are but deep down you are kind of rolling your eyes." Another replied, "I think someone told her she was America's sweetheart and she believed it." One friend placed her in the category of "really affected drama queens," saying, "I can imagine her non-ironically yelling 'Acting!'" In other words, she's always onstage, always calculated — not someone with whom you'd want to party or share your deepest secrets. "I am an Anne Hathaway supporter," said a friend who sidestepped the question of whether or not she finds the actress likable. "Sure, she's kind of needy, but so are all actors." 

What does it really mean when we say an actress "annoys the shit" out of us, anyway? That we hate the roles she chooses? The paparazzi'd version of her life we see in US Weekly? Her insufficiently funny quips on the red carpet? Or, as Salon asked today, is it her face? In some ways, the point of sitting on the bleachers of celebrity culture is the thrill of judging with impunity. Unlike our neighbors or co-workers, we convince ourselves that famous actors, by dint of making their living entertaining us, have chosen to be judged. And judge we do. (This isn't just a byproduct of our Twitter-enforced instapundit culture, either: "Let's get Entertainment Weekly and play my favorite new game: Love Her/Hate Him," exclaims Will in a 1999 episode of Will & Grace.)

For someone who's managed to win our seemingly arbitrary love, look no further than Hathaway's fellow winning actress from Sunday night, the universally adored Jennifer Lawrence. She's self-effacing and funny. She seems like an excellent party companion, taking just about every opportunity to mention how many shots she's had (before appearing on Jimmy Kimmel, before the red carpet, after winning the Oscar for Best Actress). She doesn't seem overly serious about Hollywood, and gently chided Hollywood royalty Jack Nicholson, "You're being really rude," when he interrupted a post-win interview. She doesn't pretend that punishing body standards are anything but horrible. When she jokes about sucking in her stomach on the red carpet or her publicist hating her for eating a Philly cheesesteak ("There's only so much Spanx can cover up!"), it feels real, not designed to fool her fans into thinking she's not one of those salad-but-hold-the-dressing girls. Lawrence said she ordered McDonald's on the red carpet at the Oscars.
Hathaway is a vegan.

At first blush, though, the two actresses have much in common. They're both incredibly driven, making several films a year, and knew from a young age they wanted to be actresses. Much of what we love about Lawrence should also translate to love for Hathaway. When David Letterman asked Hathaway how she lost 25 pounds for her Les Miz role, she replied, "You don't want to know. It would just make you worry." J.Law drew props for confessing "I'm starving!" on the red carpet, but Hathaway has also described how she and Devil Wears Prada co-star Emily Blunt "would clutch at each other and cry because we were so hungry." Are these really that different?

The biggest difference between them is their interview and red-carpet persona. Hathaway doesn't have the same down-to-earth delivery. She's charming, but not funny. Meanwhile Lawrence manages to exude a best-friend vibe even at a behind-the-curtain Oscar press conference. Anyone who's frozen up in front of the camera or in front of a crowd knows how hard it is to play a version of yourself and seem "natural" with all eyes on you. That Hathaway struggles with this should make her more relatable to us. Yet "I watch her in outtakes, and I feel like she's not a real person," writes a blogger at Crushable.

By contrast, even though she's now an Oscar-winning actress, Lawrence still seems fresh. Hathaway, who has been acting for a decade and was a clear favorite for the Best Supporting Actress award, seems to fit the broader cultural pattern (I've called it the Hillary Catch-22) in which we simply don't find successful, "perfect" women very likable. Lawrence is well aware that it serves her well to stay the underdog. She told Chelsea Handler about being in the grocery store and seeing her face on magazine covers. "I was like, I'm going to be that person that everybody hates because it's like, 'Here I am!' all the time."

And she's probably right. "Young women in Hollywood cannot win, no matter what they do," writes Roxane Gay in a searing takedown of the racist and sexist humor that pervaded Oscar night. "There are more than a few smart jokes that could illustrate this rock and hard place women in Hollywood are crammed into." True, for actresses, cultivating a public personality is part of the job. And irrationality is part of being a fan. (See: the fact that Meryl Streep picks her wedgie and we love her all the more for it.) But it's worth examining whether our biases have any basis. "It does get to me," Hathaway said of all the hate she has to deal with. After all, imagine what it would feel like to know that thousands of women are passing judgment every moment you open your mouth?

"Ladies," began a Monday night tweet from Lena Dunham, someone who knows something about the hate of strangers, "Anne Hathaway is a feminist and she has amazing teeth. Let's save our bad attitudes for the ones who aren't advancing the cause."