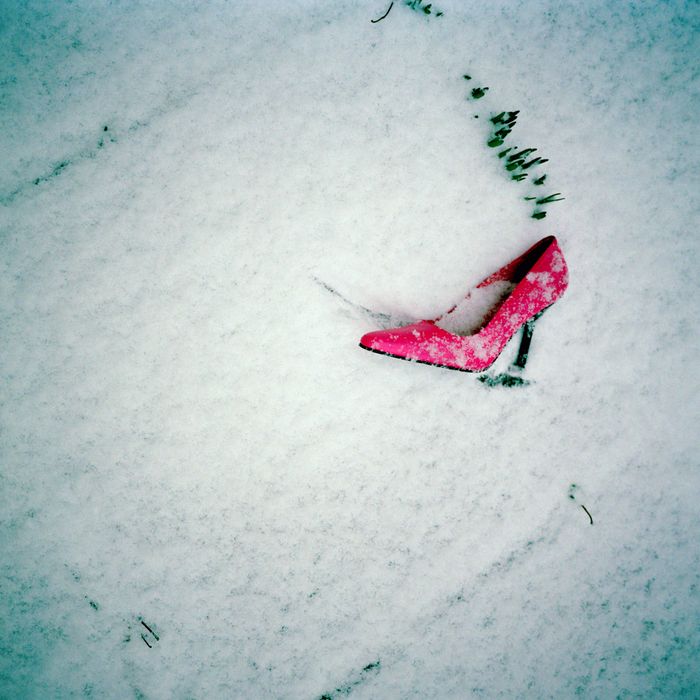 Winter Storm Nemo.
Photo: Corbis
Weather forecasts predict "a blizzard of potentially historic proportions" in New York today, forcing Fashion Week attendees to slop around between shows and parties in ugly shoes (or cute ones they don't mind ruining, for the true fashion masochists). Disgusting weather is always a bummer, but this storm is bad enough — twelve to sixteen inches of snow! — that it's causing serious logistical problems. Marc Jacobs has postponed his show to Thursday owing to delivery delays; he certainly can't be the only label suffering from stalled shipments. Meanwhile, designer Jenni Kayne, whose presentation takes place today at 11 a.m., is stuck in L.A. owing to flight cancellations and won't be able to come at all.
Kayne's publicist sent out the following e-mail this morning:
With the impending storm, we received word this morning that Jenni's plane was not able to make it out of LA last night. 

We are terribly sorry for the inconvenience – but the show must go on! We will still be presenting Jenni's collection today from 11-1. We hope to see you and will have to arrange all necessary interviews via phone or email. 
Check back here for weather-related Fashion Week updates throughout the day; in the meantime, layer up and put on your boots. The only thing worse than heels in a blizzard is crutches.
Update 1: What started out as strong winds and rain has turned into sleet, and the sidewalks are getting slick. We saw two women outside the Kate Spade presentation in high platform heels, clutching each other for dear life while a street style photographer mercilessly took their picture. Inside, piles of wet clothes and slimy umbrellas were heaped in a corner like dirty laundry.
The Jenni Kayne presentation went smoothly despite the designer's weather-related absence. "When I went to bed, she was on her way to the airport," said one of her colleagues. "But when I woke up, she wasn't here."
Jason Wu, whose show took place at 1 p.m. today, told Cathy Horyn that his team didn't experience any storm-related problems.
Update 2: IMG released the following statement to WWD:
In consultation with the city and CFDA, as well as our other partners, we have decided not to close Mercedes-Benz Fashion Week early this evening. All planned shows will go on as scheduled. We are also working on adding additional shows to tonight's schedule to accommodate designers who were scheduled to show on Saturday morning. We expect that Mercedes-Benz Fashion Week will re-open at 9 a.m. Saturday, and that all shows will go on as scheduled tomorrow afternoon. We are working to accommodate all of our designers, and will update the schedule as soon as possible.
WWD also reports that Suzy Menkes's flight in from London has been delayed, so the IHT editor is missing today's shows.