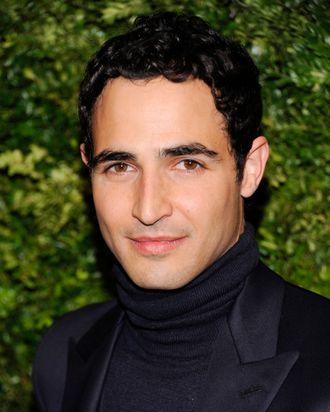 Photo: Evan Agostini/Corbis
WWD writes that Zac Posen is introducing a contemporary line called Zac Zac Posen, priced between Z Spoke — which you can only find at Hudson's Bay and Lord & Taylor, but for under $200 — and his regular collection. Once fashion's wunderkind, for the last few years, Posen hasn't had it easy: He ditched New York to show in Paris for spring 2011 and was accused of trying too hard; a month later, he replaced his mom with Scoop's CEO; Saks eventually dropped Z Spoke; and before the spring 2012 season, Page Six Magazine dubbed Posen "Fashion's Biggest Poseur," an insult we haven't heard since sixth grade. However, these days, things are looking up for the designer — for example, Naomi Campbell, Karolina Kurkova, and Coco Rocha walked his spring 2013 runway. Sure, someone in the audience was slapped, but what can you do?
Anyway, amid WWD's debate over how to categorize Zac Zac Posen (advanced contemporary? Upper-contemporary? Contemporary luxury? Gold range?), the article does contain details about the line.
It stands to note that a black leather motorcycle jacket and leather pants found their way into the Zac Zac Posen fall offering, but the majority of the collection was built around Posen's signature stretch jersey dresses with architectural seaming, printed blouses and matching skirts, stretch faille jackets and pants and three-piece suits in jacquard with a shot of metallic thread. There are also handbags done in a license with Mondani, as well as a major evening and cocktail dress component.  
Most garments ring in around $500, while eveningwear costs between $690 and $1,690. The debut collection has already been picked up by Saks, Neiman Marcus, Scoop, Intermix, and Harvey Nichols. Annnnnd at the end of the article, there's a moment of truth:
Another reason Posen feels the time is right for Zac Zac Posen is his role on "Project Runway." For those who might have lost track of the show, Posen has replaced Michael Kors in the role of quippy designer that he occupied for 10 seasons. Episodes featuring Posen started airing Thursdays at 9 p.m. last month on Lifetime. "We're entering a moment when we're on TV on a weekly basis," said Posen, going back to the simplicity of titling the collection. "It's important to give the customers who want it in the store that clear name."
$690 says one of Project Runway's challenges this season is to design a gown for Zac Zac Posen.