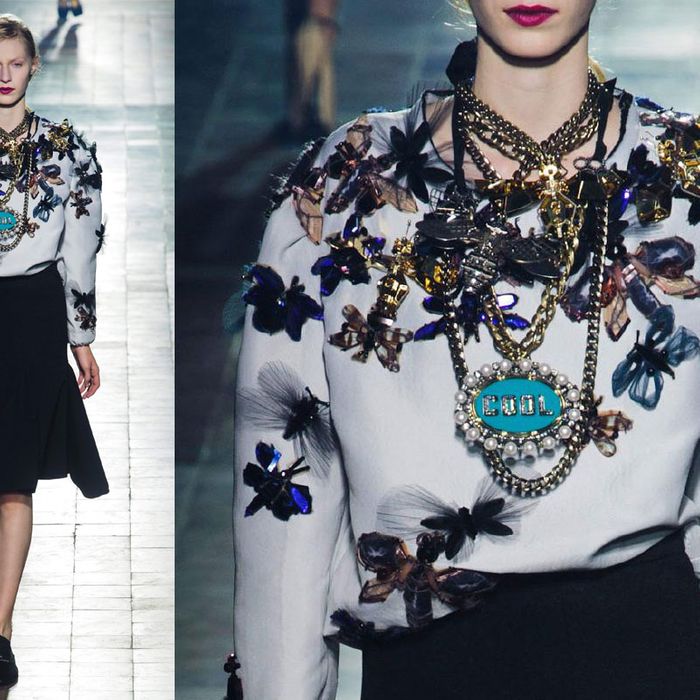 The most highly anticipated show of the day month was today's widely praised Balenciaga debut by Alexander Wang. Key pieces mentioned most by critics were the crackled leather ones toward the end of the show, which were, in fact, painted knits. Zoom in to view one such example paired with slim-cut black trousers and notice how bits of knit appear through the cracked overlay. Over at Balmain, Olivier Rousteing delivered a collection full of strong-shouldered pieces accessorized with over-the-top chandelier earrings that dangled from models' lobes. Full of the house's signature glitz, one quilted fuchsia ensemble featured a dazzling mix of glittery threads accented with a gold belt that shimmered as it glided down the runway.
Nina Ricci was ladylike as always but with some sexy boudoir glamour thrown into the mix. One dress married flouncy feathers, lace insets, and a delicately pleated sweetheart neckline — revealing, sure, and likely to become a red-carpet hit for the brave starlet who wears it. Lanvin closed the day with more seductive satin dresses. They were paired with rich furs, bejeweled crowns, and cheeky necklaces that said things like happy, love, and, of course, Lanvin. One particularly beautiful embellished look consisted of butterflies constructed out of tulle and gems — click ahead to see all of the sparkly adornment up close, then catch up on all of the other details of the day.
See the complete Balenciaga fall 2013 collection here.
See the complete Balmain fall 2013 collection here.
See the complete Nina Ricci fall 2013 collection here.
See the complete Lanvin fall 2013 collection here.