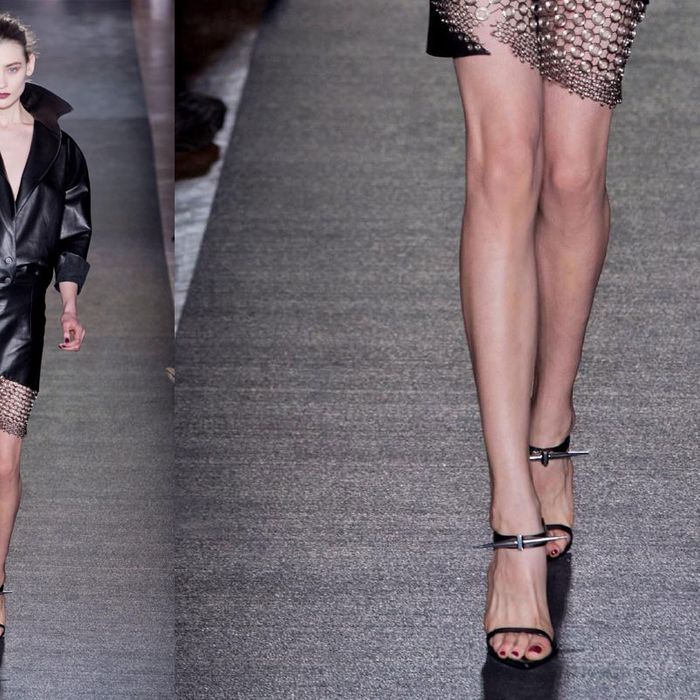 Milan wrapped up yesterday with Giorgio Armani and Gianfranco Ferré among the last designers to show. A spectacular origami pleated navy gown was worthy of a double take at Giorgio Armani — the precise folds mirrored the detailing on the waistline before melting into a rich velvet skirt. At Gianfranco Ferré, the models were styled with futuristic-yet-luxurious oversize collars that were really more like bibs. They were tucked under luxurious furs, peeked out from blouses, or worn over long dresses. One was even paired with a sculpted strapless dress to create the illusion of a halter.
Today in Paris, the alway-sexy Anthony Vaccarello helped kick off the final week of shows with his usual array of body-conscious clothing. The shoes were sharp and lethal, with protruding silver spikes that extended inches from the foot — a definite street-style favorite come September. Over at Cédric Charlier, the designer drew inspiration from illuminated manuscripts for the last few looks of his collection, using the vibrant illustrations to cover two dresses and a top paired with matching trousers. Click ahead to see the beautiful colors up close and decide for yourself whether they're flowers or animals.
See the complete Anthony Vaccarello fall 2013 collection here.
See the complete Cédric Charlier fall 2013 collection here.
See the complete Giorgio Armani fall 2013 collection here.
See the complete Gianfranco Ferré fall 2013 collection here.