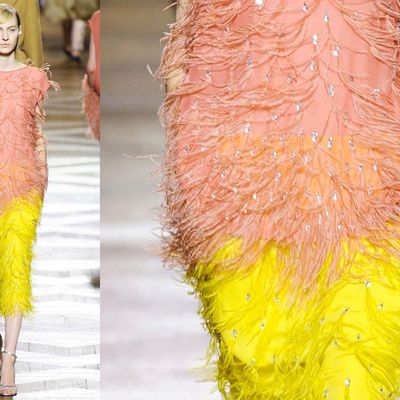 It's the Fashion Week we've all been waiting for. So far, Paris Fashion Week has delivered. Dries Van Noten was, as always, a surprising motley mix of colors and prints that did not disappoint. One look, in particular, combined peach-pink ostrich feathers, delicately attached to Swarovski crystals, with a lemon-yellow ostrich-feather skirt. It was a surprising combination, but one that felt fresh and optimistic for fall.
One of the last looks at Guy Laroche was completely surfaced in blue Swarovski crystals, many of them in different shapes and sizes. We couldn't look at it too carefully without getting a little dizzy from all the shine.
Gothic futurism was strong at Gareth Pugh, where stiff funnel-neck dresses, long sweeping sleeves, and macramé plastic weirded us out, in a good way.
At Rochas, a swinging chartreuse car coat was draped over pale-gray silk pajamas with nothing but a crystal choker to adorn the neck. A relaxed look that was surprising — perfect for, say, being rich and watering the plants in your greenhouse in the 16th arrondissement.