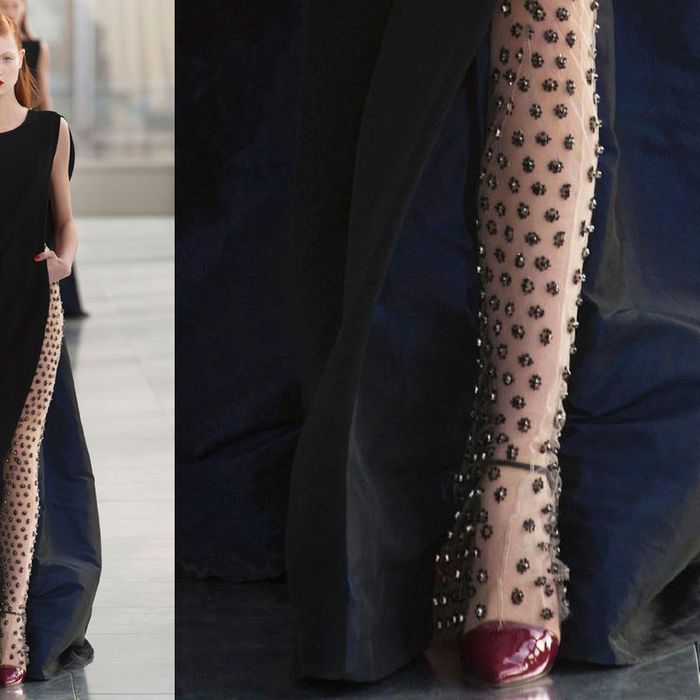 London Fashion Week is often associated with vivid prints and the usual suspects didn't disappoint. Mary Katrantzou skipped the postage stamps this season in favor of moody and surreal black-and-white scenes, like one of a gentleman in front of a moonlit tree. Peter Pilotto showed iconic graphic photo prints but also experimented with embroidery, translating their patterns to pieces like an intricately detailed cropped jacket. Over at Michael van der Ham, the designer layered various fabrics to play with texture; one dress toward the end of the show was especially noteworthy with its mix of velvet, rhinestones, and glittery thread.
Preen, which is normally print-centric, took a ladylike turn this season with pretty pieces like a rhinestone-detailed blouse and one skirt that featured multicolored gems. And, finally, at Antonio Berardi, the mullet shirt made an appearance, confirming that the trend has crossed the Atlantic. A set of diaphanous gem-encrusted insets on one gown also caught our eye. They almost appeared to be leggings on first glance, but the panels actually reached all the way up the body. Click ahead to see all of these details up close and personal.
See the complete Antonio Berardi fall 2013 collection here.
See the complete Peter Pilotto fall 2013 collection here.
See the complete Michael van der Ham fall 2013 collection here.
See the complete Mary Katrantzou fall 2013 collection here.
See the complete Preen fall 2013 collection here.