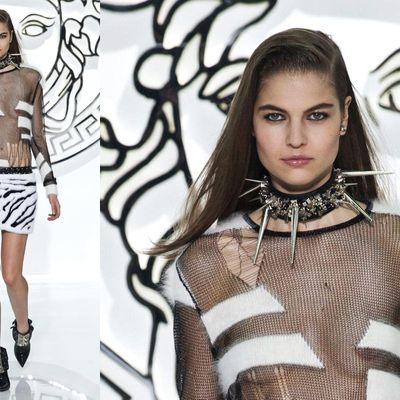 Moschino kicked off the third day of Milan with clothes fit for a fantasy boarding school where the students of dignitaries would take liberties with their uniform, both on and off the polo grounds. With plenty of tartan, embroidered riding helmets, and rich brocade, you might almost miss the cheeky details on some of the jackets, like this white version tipped in black. Zoom in and you'll see the crest of the Moschino Boarding School consists of a tuxedo on a golden hanger — quite a fancy place to enroll.
Major trends from the New York runways like power shoulder coats, fur, and quilted leather all popped up at Sportmax, but it was this double-slit skirt that's worth a second glance. From afar, it resembles yet another head-to-toe fur ensemble, but up close, it was actually a shaggy knit interwoven with sparkly silver thread. And over at Blumarine, the primarily pastel palette was mixed with hits of black, a look you can recreate right now. One piece of note was a pale pink brocade dress worn over a pair of matching pants, covered in beaded flowers.
Following Fendi's fur mohawks, Versace closed out the day with their version of a punk-inspired collection. Filled with slashed fishnets, PVC, and sharp nails, take a closer look at the insane spiked collars adorning the model's necks. Place your bets now as to who will wear one come May, at the Costume Institute Gala. Click ahead to see all of these and look back at all of the zoom-worthy details of the last two weeks.
See the complete Moschino fall 2013 collection here.
See the complete Blumarine fall 2013 collection here.
See the complete Sportmax fall 2013 collection here.
See the complete Versace fall 2013  collection here.