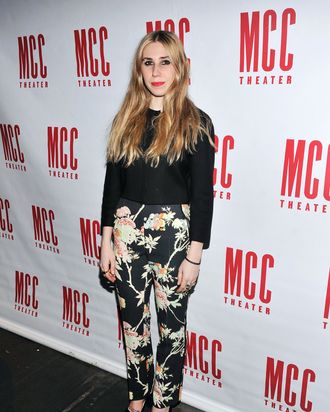 Photo: Stephen Lovekin/Getty Images
The new Off Broadway play Really Really is a he-said, she-said story — the morning after a campus rager, a murky rape accusation hangs in the air, and with all the booze blackouts, no one knows what really happened — and the accuser is none too reliable herself.
To deal with the heavy subject matter, the young cast (including Girls star Zosia Mamet as the accuser and Friday Night Lights' Matt Lauria as the accused) has developed a subject-appropriate way to let off some steam: telling rape jokes. "We kind of have to," co-star Lauren Culpepper told the Cut at last night's opening-night party. "We give Matt and Zosia permission to say any rape joke, if they want to joke about it, to get through it. They are the keepers of the rape jokes." Hearing this, Mamet interjected ("Am I?") before clearing things up: "We all make quite a few of them during rehearsal, I will say that." Unfortunately, she wouldn't share any of her best punch lines.
But maybe that's for the best: The cast knows that their backstage habit, and the public admission of such, could easily be misunderstood. "It's very serious subject matter that you don't joke about too much," Lauria explained later. "I would never want Zosia to ever think I was cavalier about the things we have to participate in." Carry on then.