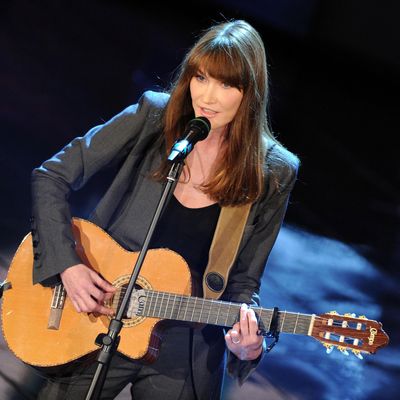 Photo: ETTORE FERRARI/Corbis
Little French Songs is scheduled to hit FNAC and other electronic chains in Europe on Monday (April 16 for America!), but there are few reviews of Carla's fourth disc on the Internet. Though the Cut already pre-ordered and learned the lyrics to "Mon Raymond" in its entirety — "il est canon c'est d'la bombe atomique" — we compiled a list of several critics' reactions so that you, dear readers, can make an informed purchase.
1. "You can imagine Bruni singing 'Mon Raymond,' a frankly embarrassing ode to her husband, in a smart Paris salon, raising her elegant nose as the whiff of the rabble outside invades the gilded room." —The Times U.K.
2. "'J'Arrive A Toi' is the first bar of a half-decent song milked to within an inch of our sanity." —The Express U.K.
3. "Any schoolgirl could do her gentle cooing." —Bloomberg
4. "There's something of Nero fiddling while Rome burns to Bruni's breathy delivery of self-penned songs intended to hark back to the golden age of French chanson." —The Times U.K.
5. "For a moment 'Prière' sounds like Toni Braxton's 'Unbreak My Heart' but then disappointment sets in." —The Express U.K.
6. "These are the songs a waif sings through a Marlboro haze outside a Parisian café in a Woody Allen film — nice if that's how you like your clichés." —The Express U.K.
7. "The album is as relaxing as a quiet night in with a shared bottle of decent Merlot." —Bloomberg
8. "There's nothing to disturb that soothing bath before bedtime." —Bloomberg
9. "L'hebdo se contente de conseiller un « fucking good album ». Quand la musique est bonne … " —Les Echos