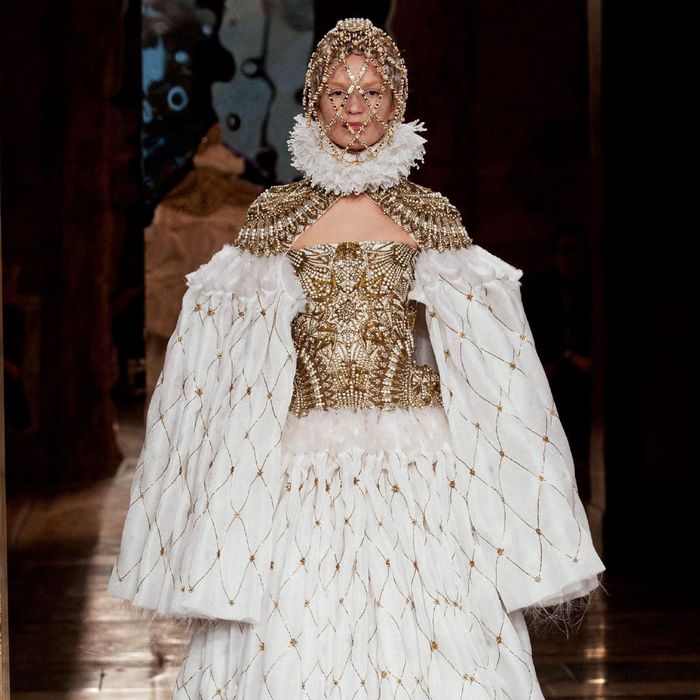 Wow.
Photo: Armando Grillo/Imaxtree
Sarah Burton's Alexander McQueen show contained only ten looks this season, as the designer has been busy giving birth to twins. But its condensed size only made people love it more. "Hallelujah! That word applies not just to the ecclesiastical motif of Sarah Burton's exquisite Alexander McQueen presentation, but to what a designer can do with 10 looks and a thought in her head," raved WWD. Everyone was in fits over the pearl-encrusted details, the Tudor-inspired crinolines, and the ecclesiastical laces. One couldn't help but wonder, between Burton's newborns and Kate Middleton's growing belly, if the designer had been inspired by Henry VIII's multiple pregnant wives.
As usual, the garments were museum-worthy, and far too precious to be worn in real life. Which leads to the inevitable McQueen question of how these will work as ready-to-wear. Well, rest assured, it does! The Cut's Stella visited the McQueen showroom today and found that the garments' simpler versions had been translated cleverly from the runway pieces (some of which will, of course, be made to order for whoever is adventurous and rich enough to want them). Several dresses were made of knit fabric with a white-dot pattern to mimic the embroidered pearls. There were tons of gold details, box pleats, and pearl strands. Despite the actual show's brevity, the ready-to-wear offerings were plentiful, and we can expect to see lots of them on red carpets to come.