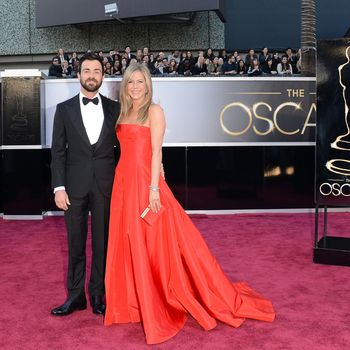 The happy couple.
Photo: Jason Merritt/Getty Images
Rumors about Jennifer Aniston's wedding have been a-swirling ever since she got engaged last fall, and they've gotten particularly feverish since the Oscars. Of course, most come from "sources close to the situation," so truth is relative — for all we know, they might have already gotten married in their guest bathroom, or on a private island, or … at Donna Karan's beach house. We've parsed the gossip and rated the stories from 0 (false) to 10 (truth).
Rumor: The wedding will be "any day now."
Source: Perez Hilton.
Potential truth rating: 2. Aniston's rep called the statement "made up," but didn't deny the imminent date.
Rumor: She'll wed in Valentino.
Source: Grazia.
Potential truth rating: 7. Grazia reported that Aniston wore Valentino to the Oscars as a "thank you" to the designer for making her wedding dress. She does have a longstanding relationship with him, so there's a good possibility this could be true.
Rumor: She's planning her wedding for the same mystery date as Brad and Angelina's.
Source: The Sun.
Potential truth rating: 1. It's the Sun. Plus, that would just be rude.
Rumor: Justin Theroux will wear an Armani tuxedo.
Source: Also Grazia.
Potential truth rating: 5. He's worn Armani before, but that doesn't necessarily mean anything. Most recently, he wore a Ferragamo tux to the Oscars.
Rumor: Old friend Chelsea Handler will NOT be the maid of honor.
Source: Handler herself, to Extra.
Potential truth rating: 10. Handler said, "She has other friends that she is much closer to … we're good friends, but no, she's not going to ask me. No, that would be really weird."
Rumor: Handler will not be a bridesmaid either, or a flower girl.
Source: Handler herself, to Katie Couric.
Potential truth rating: 8. Handler could be pulling our leg, after all! And we so want this one to be true.
Rumor: It'll be small, and guests don't even know details yet; they've been told to wait for a phone call that'll provide information about the ceremony right before it happens.
Source: Radar Online's "unnamed source."
Potential truth rating: 7. A close-knit, secretive event goes without saying, but the phone thing sounds extreme.