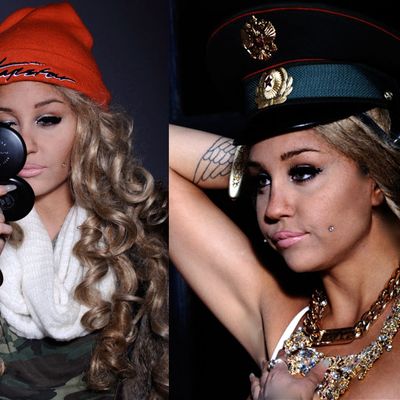 One of the things Amanda Bynes maybe forgot to tell us in her list of things we didn't know about her is that she wanted to get her cheeks pierced. The earliest shot of those new dimple sparkles was evidenced in a TwitPic from earlier this February. Then, this past Sunday, the She's the Man star regaled us with two newer pictures of her cheek piercings along with some other notable accessories.
The Hair: Not even Kim Zolciak of The Real Housewives of Atlanta has that aggressive of a wig.
The Lashes: Full and luscious, yes, as well as vision-impairing and eyelid-tiring? Definitely.
The Lips: She forgot to line her lower lip. If you're going to use lip liner on puffed-up, injected lips, at least commit to the cause.
The Tan: We were already, sadly, aware of this beauty obsession. It's how she spent her days battling Hurricane Sandy.