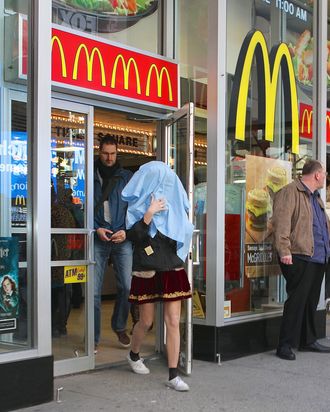 Amanda Bynes has been on a selfie spree lately, taking blurry pictures of herself in the mirror and tweeting them with captions like "Feeling so fresh today ;D" and "Uh oh! Stained my shirt while getting ready … grrrrrrrrrr!" Yesterday, however, she shared some news while tweeting a clarification about paparazzi photos that were taken outside of a McDonald's in Times Square:
The images in question were described by paparazzi agency Splash:
Amanda Bynes was spotted when she walked through Times Square wearing a ensemble of a white and blue tank top, maroon velvet skirt, and heavy winter jacket. Her feet were coming out of her shoes as she walked to McDonalds. She sipped a soda as she went up and down to the counter 7 or more times. On the way out, she was walking into the street with her blouse on her head. She turned heads as she tried to catch a cab.
Bynes's tweet about the McDonald's outing raises more questions than it answers, but we can all agree that the most salient piece of information here is the tidbit about her clothing and perfume lines. You may recall that her fashion aspirations are what brought her to New York in the first place, so good to know that's working out! The real mystery is whether the outfit she's wearing in all these pictures is actually part of said clothing line. Hopefully it is, because that skirt is really something.
In somewhat related news, while perusing Bynes's Twitter feed, we noticed something interesting: She doesn't even follow her potential vagina-murderer Drake, nor does he follow her! It's unclear whether this is a recent development, but it seems notable.