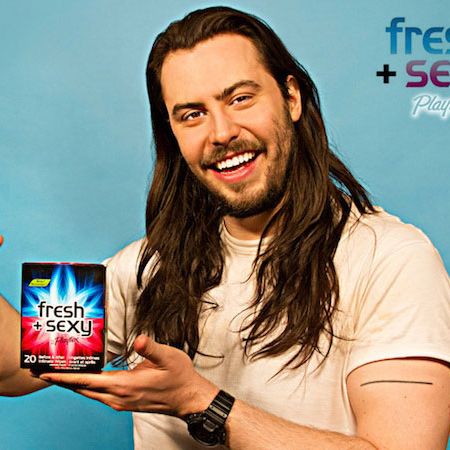 Photo: Jeremy Freeman/CN/Cartoon Network
The composer of songs like "It's Time to Party," "Party Hard," "Party Party Party," "Party 'Til You Puke," and "Make Sex" has been named the official spokesperson of Playtex's Fresh + Sexy Wipes for men and women, according to a press release. The company selected Andrew W.K. because "this exciting new product required the help of someone who could embody the brand's playful yet bold campaign; someone who could party hard, but still be clean when it counted," which makes me want to party until I puke!
For his part, W.K. recommends using Fresh + Sexy Wipes "whether you just finished rocking a packed club or have an intimate encounter after a busy day." He and Playtex have partnered on a limited-edition Andrew W.K. Sensory Kit that "will only be sent to 100 hand-picked recipients among the media," (fingers crossed) and other filthy humans. They also plan to host a Fresh + Sexy Party at SXSW Interactive on March 9, where attendees can share stories of times when they wished they had this Playtex product handy.
A press contact for W.K. assured the Cut this collaboration is real.