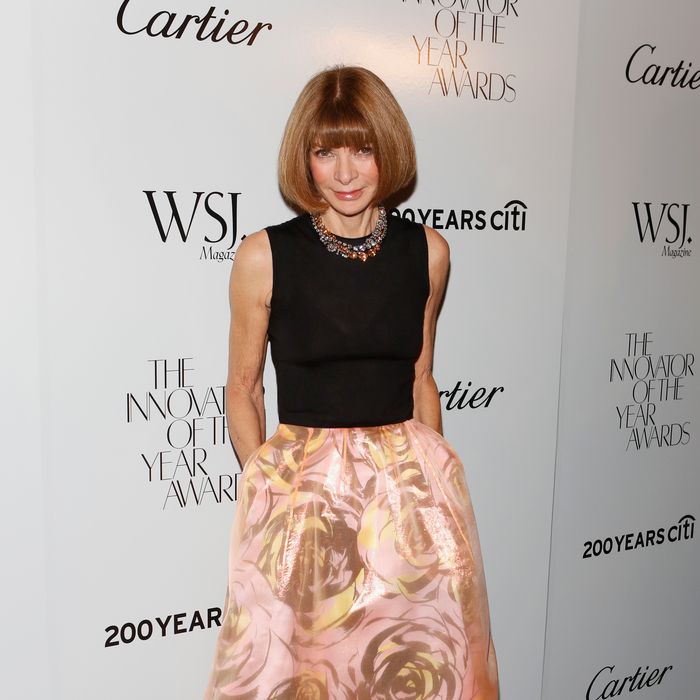 Anna Wintour.
Photo: Cindy Ord/2012 Getty Images
After all the noise about Anna Wintour landing an ambassador job turned out to be just that — noise — it should come as no surprise that she's focusing on her current empire instead of politics. On Wednesday, Condé Nast will announce Wintour's promotion to the new role of artistic director at the company, the Times reports. She'll remain the editor of Vogue and the editorial director of Teen Vogue as she assumes her new responsibilities.
The artistic director job was created specially for Wintour, although it includes many aspects of what Si Newhouse, Condé's chairman, used to oversee more actively. (Newhouse, who is 85, has recently begun to scale back on his presence in the company.) Condé CEO Charles Townsend says Wintour is a fitting heir for those responsibilities: "Si Newhouse leaves a void, inevitably," he told the Times. "Anna, without even having to think twice about it, is the most qualified person to pick up that torch and carry it into the future." He adds, "I would go to great distances to avoid losing Anna, particularly in the prime of her career." The prime! Ambassador, shmambassador.
So what exactly will Wintour's new position entail? She says she views the job as "almost like being a one-person consulting firm," which is something she does lots of already. "I advise all sorts of people in the outside world, and really, I see this as an extension of what I am doing, but on a broader scale," she says. Basically, she'll be a catch-all branding counselor of sorts for any editor who needs advice. As for Condé's long-term digital plan — well, she didn't have much to say about that. "It isn't about a machine or an iPhone or an iPad," Wintour told the Times. "It's about people."
As for the most concise statement about Wintour's new gig, that prize goes to New Yorker editor David Remnick: "I don't expect Anna to be picking the cartoons or directing our war coverage," he says. "But I have asked her advice numerous times and always been grateful for it. She's a great editor. Period." Congrats to you, Anna. You've certainly earned it.