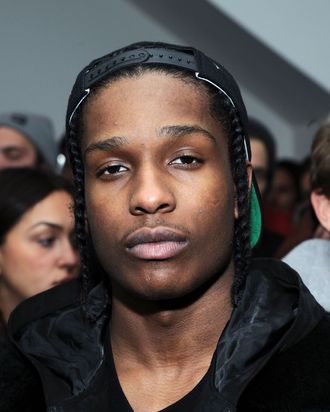 Photo: Ilya S. Savenok/Getty Images
Fashion Week showgoer (and runway-walker) A$AP Rocky appears in the pre-spring edition of i-D, the magazine's "Alphabetical Issue." The rapper is listed under H, which according to a subhead, "is for hello, what's up? big dreams, good music and expensive taste." Like Rick Owens and Raf Simons. Apparently, a few days prior to his i-D interview, A$AP was on BET "wearing what look[ed] a bit like a skirt, and caught some flak, but instead of calling into Hot97 to whine Kanye-style, he told the pub, "The thing is, it happens every time. I wear something dope, people are like, 'Fuck that guy' and then six months, a year later, you see them wearing it … It's cool though, I like to inspire people."
Speaking of Yeezy, A$AP: not a fan of portmanteaus. Of the word Kimye, he remarks, "I don't want to be a part of that. I would prefer to be me and my girl, she does what she does. I don't want to be the 'couple' thing. When they make the names up, that would make me sick. Kimye is the worst shit I've ever heard. Who thought of that dumb shit anyway? TMZ?" Jayoncé? "That is ridiculous."
Right now, there isn't a Mrs. Rocky — it's either music or a relationship — but, "In London recently I fell in love with four girls at the same time. They said, 'We want to share you today.' I was like, 'Really. Is that what you want?' I'm overly confident so it was an acceptable challenge."
You must have a lot of energy.

I do [laughs]. I'm 24 years old … ! It was fun. I met them at a show, at the after party at some club. All the hip kids were they and there were these beautiful girls. While it was going down … [whispers] the orgy, I was literally sitting there smoking and saying to myself 'This is beautiful.'

What attracted you to these women?

They were bossy.
Sheryl Sandberg would prefer if you said they had "leadership skills."