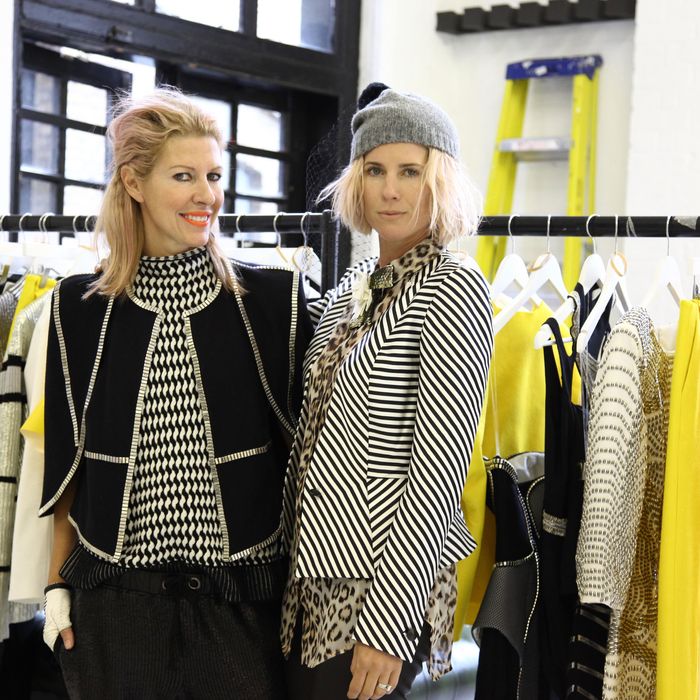 In 1999, Sarah-Jane Clarke and Heidi Middleton were just two Australian travelers selling customized jeans at London's Portobello Market. This was the birth of Sass & Bide, a label that quickly became known for supremely low-slung jeans with two-inch zippers, and early appearances in Carrie Bradshaw's wardobe.
Today Clarke and Middleton have been collaborating for fourteen years, though they sold a majority share of the company in 2001 to department-store giant Myer. "We reached a point where we needed more investment to take the brand to the next stage," says Clarke. "Financially, we made ourselves secure with the sell-out."
With eighteen stores in Australia and no plans to open more there, their sights are on the rest of the world. The first step is opening a flagship Sass & Bide in New York this year — expected to be followed by several more in the U.S. and U.K.
On the day I visit the brand's Sydney head office, Middleton is immersed in planning with the design team, so Clarke comes alone to our interview, looking relaxed. Sydney is a city where if you're not at work, you're at the beach, and where strangers are addressed as "mate" or "darl" — and Clarke has the same informal, charming Aussie manner. We sit down in a room lined with the Sass & Bide fall 2013 collection and talk about the recent show, the brand's plans for the U.S., and the challenges of letting go of elements of your own business.
This season you employed Victoria Young to style your London Fashion Week show. You've never used a stylist before — why now?
We thought it would be an interesting experience, and that it would be great to get a U.K. take on the collection. Occasionally we think a piece is relevant and new, and then we get to London and someone says, "I've seen that before" — so we thought a fresh eye would help us edit.
Did you feel it was a success?
Yes, we were very happy with it. Victoria brought some great ideas into the mix, and we've had good feedback. It was strangely calm though, which actually I don't think I liked so much. I prefer to be more involved. Heidi deals with the design side of the business, and I do the branding, PR, and marketing, so the styling of shows is one area where the two of us usually come together and work closely. I guess I missed that a little bit.
Do you think you'll go back to doing it yourselves at some point?
Oh, yeah! Look, we'll probably do it while we can, and while we still love that side of the business. It would be different if we were saying to each other, "You know, I'm a bit over it. I don't really feel like it any more."
You've been looking for a location for your New York store — how's that going?
Over the last six months we've come so close to signing stores, and then something happens to break the deal. But the three of us — Heidi and our CEO [David Briskin] and I — are all really confident about this latest site. It's in Soho, near Isabel Marant and Alexander Wang, so we'd have really great neighbours. We've been so far down the line with other premises, so we shouldn't get excited until we've signed, but we're really feeling it.
And what next, once that's open?
If it's successful then we'll roll out more stores in New York, L.A., and some of the other major hubs of the U.S., and in the U.K. too. To date I don't think there's been an Australian brand that has succeeded in taking on the U.S., so it is a challenge for us, but one that we feel confident about.
Why is now the time for international expansion?
We're doing all this marketing activity in the U.S. and the U.K., but the feedback we're getting is that although people know our name, it's tricky to find us. In December we launched our E-boutique, with shipping to the U.K. and U.S., and that's gathered some momentum, but there's nothing like the experience of walking into one of our stores.
In 2011, Myer became 65 percent shareholders of Sass & Bide — how's that working out?
We meet with Myer on a monthly basis at the board meeting, but they're very hands-off on the marketing, PR, and creative side of the business. Where they've been really strong is on the operational side, helping us out with distribution, factories in China, and so on.
Was it difficult for you to let go of some of that control, after so many years?
It was a little bit difficult, and it still is at times, to be honest. Once you've become an entrepreneur, it's hard not to be one. We were quite hesitant to do it — we thought, Are Myer going to tell us we've got to start making corporatewear? — but it hasn't been like that. They've been very respectful of what we bring to the business.
You've done some high-profile social networking activity recently — is that another priority?
Yes — we've made it a big part of the business this year to capture new followers and try to lead in that space. The Coco Rocha social media takeover came about because we needed to shout loud about our online shipping to the U.S. and the U.K. Coco has amazing followers who cross over the same demographic that we wanted to target. She's been smart about blogging and putting herself out there.
Then there was the "Insta-walk" — a live upload of looks from the London show onto Instagram, so that our followers could feel like they were in the front row. Instagram is such a great medium to control your own messages. Remember when you used to wait three months and rely on magazines to put it out? Isn't that bizarre? Now if you don't get it out there fast, the bloggers will do it, so as a brand you really have to be proactive.
It's difficult to keep up …
Yes, and I find that having three young children, I don't have the time to really get into that world. I have a love-hate relationship with Instagram — I'm either on it every day, or right now I haven't checked it for weeks, and I'm enjoying that. For a brand, Instagram is a very powerful tool, but as an individual you have to be tough-skinned. Some of the comments that people write on there — I'd be devastated to receive those. I'm not tough enough to put my soul online for people to comment on, so I tend only to put work things on there.