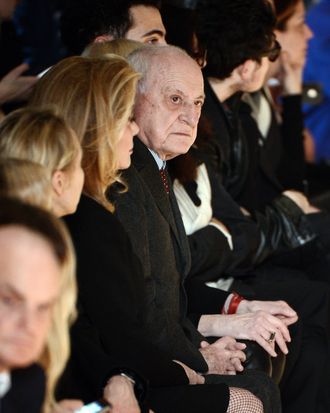 Pierre Berge.
Photo: MARTIN BUREAU/AFP/Getty Images
Although many critics weren't impressed with Hedi Slimane's latest Saint Laurent collection, the grunge-inspired clothes have gotten plenty of positive feedback from those who really matter. Yves Saint Laurent's lifelong partner, Pierre Bergé, reiterated his support for Slimane's work in today's Wall Street Journal — a particularly notable gesture given his public disapproval of the label's previous two designers, Tom Ford and Stefano Pilati. Of Slimane's controversial fall 2013 show, Bergé says, "I adored it; it's exactly what needed to be done." He also added approvingly that Slimane regularly visits the fashion house's archives, which the 82-year-old Bergé oversees.
See the complete fall 2013 Saint Laurent collection.