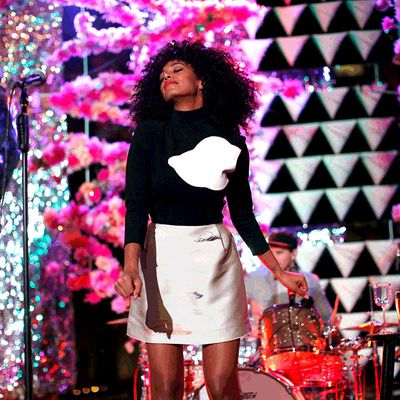 Let's be clear: We went to the Armory party at the MoMA last night to see Solange. We love Solange for Solange, and listened to "Losing You" on repeat as we tied on our dancing shoes before her performance. That said, we are human, and thus prone to rumors and speculation about the whereabouts of Solange's sister, Beyoncé. So when someone at the entrance told us, "Miss USA is here," we wondered whether she actually meant "Miss 21st Century." We never did notice Miss USA in the crowd, and barely blinked at Alexa Chung and Harley Viera-Newton posing at the D.J. stand. Apparently Jessica Biel was around somewhere too, but we were too busy staking out our dancing space in MoMA's lobby.
As the crowd swelled behind us, we couldn't help but think it would be irresponsible to bring Beyoncé in here. We — or worse, she — could be trampled. That was when we noticed a suited man who looked bulkier than your average MoMA security guard. He was standing on the balcony above and carrying a walkie-talkie. We noted this and continued to wait for Solange.

A moment later, the balcony glass was filled with what looked like the silhouette of a female superhero. She was shaped like a perfect hourglass and had cascading, voluminous hair. It was Tina Knowles. She raised her cell phone to take a picture of the crowd, and the crowd did the same in return. We turned back to the stage just in time to see Solange's unmistakable fluffy coif in the wings. "Hopefully everyone's had a little Champagne," she said with a wide, matte-red lip-sticked smile as she took the mic. "Makes my job easier." Everyone screamed. She warmed up with songs from True ("Some Things Never Seem to Fucking Work" and "Locked in Closets"), sounding as smooth in person as she does on her albums.
At one point during her performance, Solange stepped offstage to be photographed with panting fans, perhaps to stop people from rubbernecking at the balcony, where her sister just might show up. Then we turned around and caught a glimpse of … her sister on the balcony, showing up. She was just a silhouette, wearing a grey jacket with enormous white cuffs. Jay-Z was beside her.
As the first bars of "Losing You" began, we decided it was now or never, and charged the balcony stairs in hopes of being invited to join the Knowles-Hova clan. Instead, we were blocked by a beefy guard. Beyond his enormity we could just see what appeared to be yellow Timberland boots (his) and burgundy Isabel Marant sneakers (hers) tapping to the music. For a second, the guard leaned back and we could see for ourselves that Bey was having a really good hair night.
Admitting defeat, we went back to the dance floor just in time for Solange's final refrain, at which point a grinning Beyoncé leaned over to take a cell phone picture of her sister. Luckily, no one was trampled.