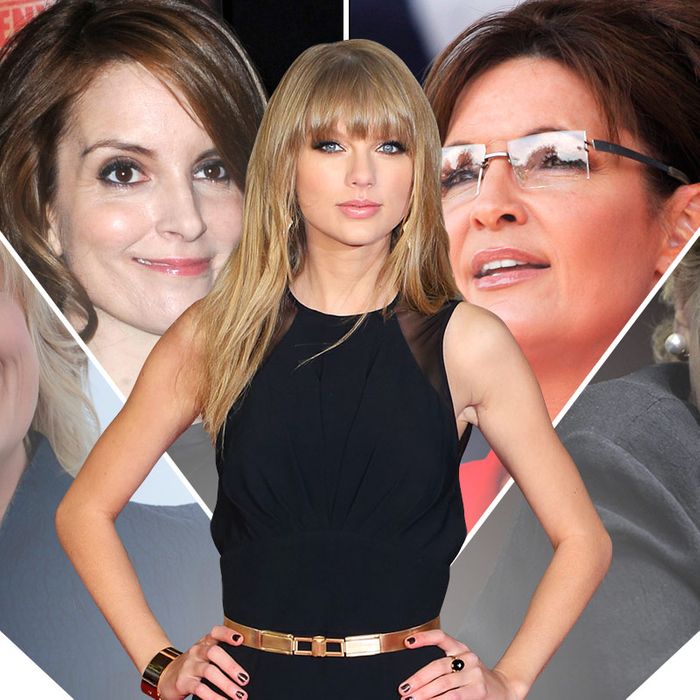 According to the English-speaking world, there are special places in hell reserved for the following: Ronald Reagan, bike thieves, people who waste good scotch, people who use hashtags on Facebook, and women who don't help other women.
To the amusement of many, Taylor Swift invoked that last category when Vanity Fair asked how she felt about Tina Fey and Amy Poehler joking about her love life. She credited it to Katie Couric, who told Swift "she had heard a quote that she loved, that said, 'there's a special place in hell for women who don't help other women.'" That quote is generally attributed to Madeleine Albright, who repeats it often during discussions on female leadership and workplace dynamics. When she said it during a Wellesley panel in 2004, the room broke into cheers. (An alumni organization now sells T-shirts with the quote.) She said it at a WNBA luncheon in 2006. She said it to Time magazine in 2008, the same year that the quote appeared on Starbucks cups, drawing attention from none other than Sarah Palin: 
Palin had recounted a "providential" moment she experienced on Saturday: "I'm reading on my Starbucks mocha cup, okay? The quote of the day… It was Madeleine Albright, former Secretary of State [crowd boos] and UN ambassador. … Now she said it, I didn't. She said, 'There's a place in Hell reserved for women who don't support other women.'"
Palin then segued: "Okay, now, thank you so much for receiving that well. I didn't know how that was gonna go over. And now, California, let's see what a comment like I just made, how that is turned into whatever it'll be turned into tomorrow with the newspaper." The next day, Albright weighed in: "Though I am flattered that Governor Palin has chosen to cite me as a source of wisdom, what I said had nothing to do with politics."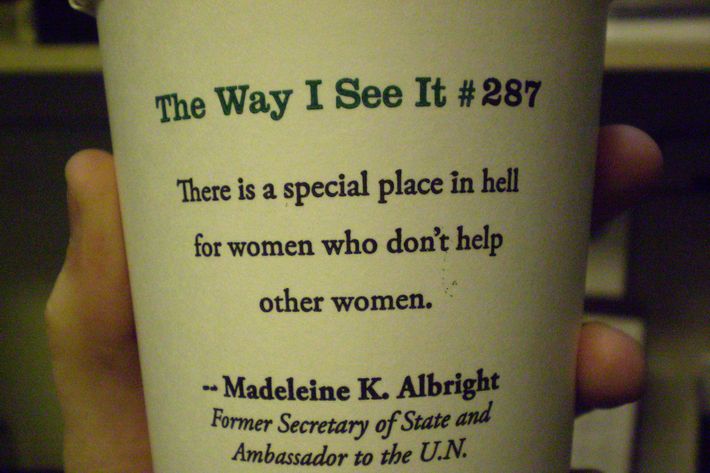 In an interview with The Wall Street Journal, Albright later noted, "I think many people now know my statement which appeared on a Starbucks cup." (The quote is also available on bumper stickers and baby tees.) In another interview, Albright contextualized the famous quote with an anecdote about "a group of women foreign ministers that were my friends throughout the world."
Swift and Palin aren't the only women to reinvent Albright's sentiment. Former congresswoman Jane Harman adapted it to "cold place in hell." At Glamour's 2011 Women of the Year Awards, editor Cindi Leive drew applause with an amended version: "There's a special place in hell for women who don't help other women. We didn't let any of them in tonight." Sky News anchor Kay Burley mentioned Albright's "special place in hell" during an interview about getting plastic surgery. During Tiger Woods's mistress scandal, a Showbiz Tonight contributor gave Albright's hell a sordid twist: "There's a special place in hell for these women that sleep with other people's men."
Taylor meant to apply the quote to "the subject of mean girls in general," writes Vanity Fair. Mean Girls director Tina Fey's reply: "It was just a joke, and I think it was actually a very benign joke." Amy Poehler said of Swift's comment, "Aw, I feel bad if she was upset. I am a feminist and she is a young and talented girl. That being said, I do agree I am going to hell. But for other reasons. Mostly boring tax stuff." Albright, Palin, and Starbucks remain silent.