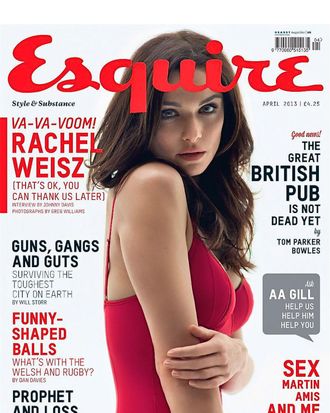 I feel for Alex Bilmes. Every panel discussion must have a token dissenter, political outlier, or villain — the Elisabeth Hasselbeck, if you will. It's a tough role to fill, and at a panel on feminism at London's Advertising Week Europe, Bilmes, the editor of British Esquire, was probably it. Still, I'm not sure radical honesty is the best way to approach that role. The Guardian came away with some pretty bananas quotes.
"The women we feature in the magazine are ornamental … I could lie to you if you want and say we are interested in their brains as well. We are not. They are objectified."
On Twitter, Bilmes said that he was misquoted, and was actually saying women are "mental," not "ornamental," although, not speaking British English myself, I'm  not sure if that's (a) a joke or (b) any better. According to the Guardian, Bilmes added that Esquire provides pictures of women "in the same way we provide pictures of cool cars," which could have been a relief, in an air-clearing, mea culpa kind of way. Unfortunately, it appears he went on to defend it.
According to Bilmes, Esquire's approach is "more honest" than the "anti-feminist" newspapers that will illustrate a financial story with Naomi Campbell shopping at Marks & Spencer, and "less rigid" than women's magazines, which are primarily responsible for negative stereotypes of women.
"We are more ethnically diverse, more shape diverse … In fashion magazines women are much thinner. We have older women, not really old, in their 40s … Most women's magazines don't put them [older women] in their magazines."
Personally, I would forgo such bold and anti-ageist cover models as Cameron Diaz, 40, in favor of women being distinct from cars. Bilmes assured attendees that men "see women in 3D" in real life, "but at certain times we like to see them sexy." I think I would rather be lied to.