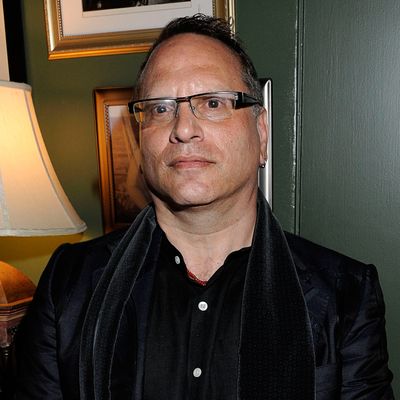 Buzz Bissinger.
Photo: Eugene Gologursky/Getty Images
Buzz Bissinger is the best-selling author of Friday Night Lights, a contributing editor at Vanity Fair, a father of three, and a 58-year-old married man. In the latest issue of GQ, he confesses his debilitating addiction to shopping, mainly for bespoke Gucci leather items, and the way in which that addiction functions as sexual release. There's some crossover into S&M, homosexuality, sex addiction, and depression, culminating in Bissinger blowing $638,412 as a front row Gucci guest during Milan Fashion Week. He's in therapy, and his wife sounds like an incredibly understanding woman.
But the most interesting part of this story isn't Bissinger's sex life or even his Gucci addiction (although his collection of leather pants does sound divine, and props to him for wearing man-heels in Philadelphia, where that stuff doesn't really fly). It's that he may be the first famous man to admit an unhealthy fixation with clothes shopping, to the tune of millions of dollars. Plenty of men in the public eye have blown their fortunes on cars, houses, jets, and the like (M.C. Hammer, Elton John, Mike Tyson, and countless professional athletes), but Bissinger is the first to confess a problematic obsession with high fashion in such detail. In his own words:
I see a crinkled leather jacket with a shearling collar. I try it once, then twice. It is growing on me, a sexy blend of masculine and feminine, but I beg off. The same with a coat made of Persian lamb's wool that is probably the most spectacular piece of the collection. I want it, but I am not wearing the right clothes to get any feel for it. (It isn't until I am back in Philadelphia that I buy it; it costs $22,500, a new Gucci record for me.)
This compulsion — which he says he can actually afford thanks to a healthy career and a substantial amount of family money — is something that women eagerly confess to all the time. Last year, Lucky magazine ran an entire ad campaign urging women to "fill the void" in their lives with compulsive shopping, and no one batted an eye. Female celebrities who faced bankruptcy, including Toni Braxton and Anna Nicole Smith, talked about their unhealthy fondnesses for jewelry, shoes, and the like. There's a best-selling book-turned-movie called Confessions of a Shopaholic. In other words, women are practically expected to buy clothes and shoes in a frenzied, uncontrollable manner, whereas men somehow aren't allowed to.
Bissinger can't be the only guy with a fashion problem, but thanks to him, shopping is on its way to becoming an equal-opportunity addiction — which means more dudes might feel comfortable getting help. In the meantime, anytime he wants to show us his closet (or, you know, share his heels), we're here for him.