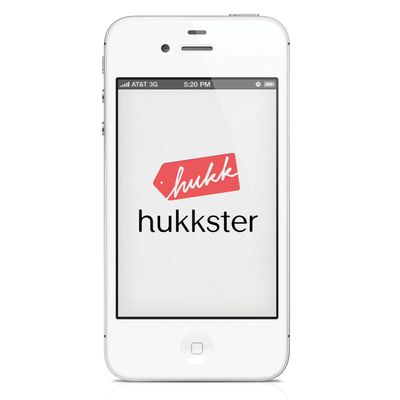 Hukkster's new app.
Photo: Geoff Teehan
The story of Hukkster is the stuff of start-up fairy tales: Co-founders Katie Finnegan and Erica Bell met six years ago as merchandisers at J.Crew, where they helped coordinate pricing and promotion plans. Finnegan went on to business school, and by 2011, both had jobs in management consulting. "Even though we were still in the retail sector, we no longer had our J.Crew discount, so it was the first time we were shopping as real consumers and not on the inside track," said Bell. "We realized that the online shopping experience was really inefficient — our inboxes were overflowing with daily deals and flash sales." And lo, the idea of Hukkster, a website where customers create an online shopping cart with their desired items and then receive alerts when those specific things go on sale, was born.
Like many start-ups, the company began on a living room sofa — Finnegan's, in the West Village — and needed money. Enter Tyler and Cameron Winklevoss, the infamous twins best known for their legal tangle with Mark Zuckerberg over Facebook. Last year, they used their settlement money to start an investment company targeting small online businesses. They then met Bell and Finnegan through mutual friends last fall; a few weeks and $750,000 later, they were a team. 
Bell and Finnegan have since moved into the Winklevosses' offices and are busily expanding their portfolio of retail partners, which include big-name stores like Saks Fifth Avenue, Shopbop, Amazon, and of course J.Crew. Today, they've launched an app that allows people to track items from their phones and tablets. We caught up with Cameron Winklevoss last week to hear about their progress and the future of online shopping.
How did you first get involved with Hukkster's founders, Erica and Katie? 
Cameron Winklevoss: We met them through a childhood friend of mine, who met Erica at a wedding. They were chatting in the bus over to the ceremony, and he knew that I was looking at early stage start-up companies. He heard what she was doing with Katie, and he was really impressed and put us in touch. Within a week or two, we had a deal in the works. It happened very quickly, but for us it felt like the perfect company.
What's the degree of your involvement at this point?
We got involved as investors in the fall, and they've since moved into our office space in the Flatiron district. Prior to that, they were working out of Katie's living room in her West Village apartment. It was part of our plan all along, when we set up our family office, that we would help house small companies and let them grow. And as they get more stable and more mature, eventually they'll scale up and buy their own space.
Do you use Hukkster a lot personally?
Absolutely, yeah. When Tyler and I were doing our due diligence on the company, one of the first questions was, 'Does it actually work?' Because an idea is only worth so much. As I was reading up on the company, I signed up and started hukking items that I'd use or wear on a day-to-day basis, like Levi's Jeans or Converse shoes, and then I started getting alerts within a few days. And then when the holiday season kicked in, I was getting alerts every couple of hours, and it was pretty exciting.
Do you find that it makes you buy things you wouldn't otherwise, just because it's on sale?
Actually, no. Alerts generally happen within fifteen days of hukking something, so you get to sleep on it. Two weeks later you might be like, 'Yeah, okay, I really want this.' Or you might not want it anymore at all. Katie and Erica are trying to encourage more prudent consumption, effectively. All these flash sales create such a sense of urgency, and that makes for an emotional purchase that you might regret later. We're trying to move away from that. And for the retailer, we're helping to solve the abandoned shopping cart problem. Lots of online shoppers add something to their cart and then forget about it and never come back again.  Basically, Hukkster allows you to find a price point that you're willing to pay for something, and that allows you to buy something that you might not otherwise. It's a win-win for both the consumer and the retailer, because you're matching the consumer up with the retailer's prices.
I noticed that you guys are very cautious about privacy settings on Hukkster, and you're careful to say you won't share people's buying habits on social media without their permission. Why is that?
There are lot of things we do online that are meant to be private, and I think shopping fits into that category in many respects. The fear of having something randomly show up in your Facebook newsfeed is very real. We get a lot of positive feedback that people appreciate the unsocial aspect of Hukkster, because shopping can be a very private affair. You may not just want to share with your friends, for whatever reason, why you bought something, or that you bought something, or where you bought it. Or maybe it's a gift and you don't want to broadcast it to the world. I'm sure you saw how people got upset that Spotify was socialized — people might not necessarily want to share what they're listening to. You might also remember Beacon, this failed Facebook sharing project where things what you bought around the web started showing up in people's newsfeeds — the quintessential story about that is one guy bought an engagement ring for his girlfriend, and it showed up on his newsfeed, and he was completely unaware of it. That being said, we have the ability for people to create wishlists and then share that, and we're allowing people to decide if they want to share products. It's really up to the user to determine at what level they want to share.
I read that your brother Tyler wasn't really into hukking and let you do all the shopping because you're the same size. Is that still the case?
Tyler's gotten better. He's been picking up the slack.