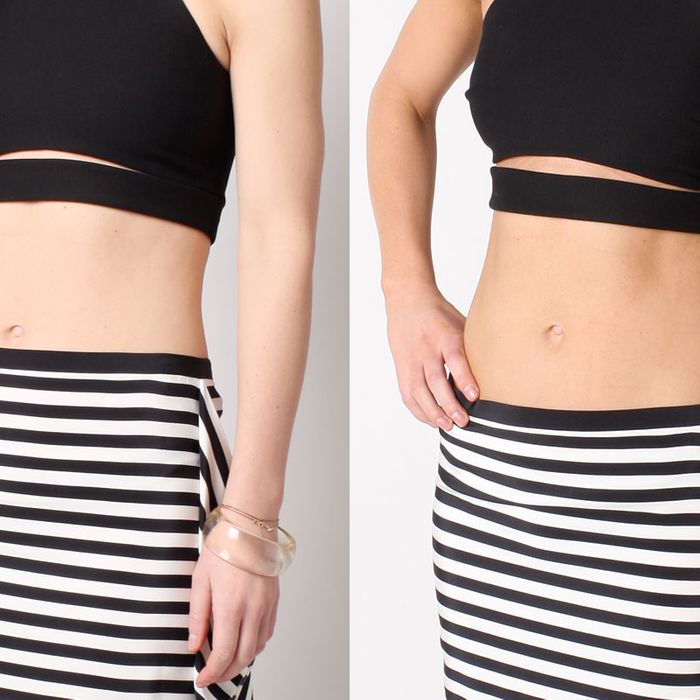 I was wearing nothing but paper underpants and standing in front of Sophie Evans, a certified "skin finishing expert" for spray-tan brand St. Tropez, who instructed me to spread my legs. I intended to pick her brain about spray-tan contours, but all I could think about was how many topless celebrities she's seen. "I can't name names," she demurred, explaining that most famous people require her to sign non-disclosure contracts (although the Internet tells me her clients include Victoria Beckham and Kirsten Dunst).
Earlier that same day, I posed for my "before" pictures, reluctantly shedding my sweater and jeans and stuffing my pale body into cute spring outfits selected by our optimistic market editors, including shorty-shorts, cropped shirts, and a low-cut Kenzo contraption that felt like a corrective brace for my boobs. I'm as ready for spring weather as the next human, but after months of bundling up in winter clothes and slouching at my desk chair at all hours, my belly looked like that weird part of a hermit crab that you only see when it's switching shells — white, translucent, and almost unhealthy. Evans was hopefully going to change that.
If I saw Evans on the street, I'd probably assume she'd just come from the beach; she's perky, blonde, and very tan, but not orange. A native of London, she now spends most of her time in L.A., the world's spray-tan capital, where she mostly makes house calls to celebrities and private clients. I went to see her at the Bryant Park Hotel, where she was set up in the penthouse bathroom. She's got her portable operation down pat: Her spray gun was plugged into the wall, and her fold-up screen was fitted with a fan apparatus to suck away fumes and excess spray particles.
"Contouring" involves the application of darker color to certain areas of my body to create an optical illusion; basically, Evans was going to spray "shadows" onto my skin to make other parts seem more defined. "It's all smoke and mirrors," she said cheerfully, spraying under my chin to create a "jawline" and applying twin swipes to my face to enhance my nonexistent cheekbones. She explained that facial contouring is particularly popular with male celebrities, since they're often concerned about their jawlines but don't want to wear makeup on a daily basis. She then told me to close my eyes and gave me a generous dollop in each eye socket. "There, natural eyeshadow!" she chirped. This made no sense at first, but when I looked in the mirror afterward, my eyes appeared more deep-set, brighter against my brown skin.
Although Evans contoured me in a single session, ideally it's a two-step process. She prefers to apply a base coat, let it settle for at least 24 hours, and then add the contours in darker shades a day or two later. Schedules don't always allow for this, though; she tells me she's spray-tanned celebrities as last minute as two hours before they've walked down the red carpet at the Oscars. "It's risky, but I've done it," she said.
I've made peace with my pale skin since my fake-baking college days, so I didn't necessarily want to go too dark, but I did want as much faux muscle definition as possible. Thinking of Gwyneth Paltrow's abs in Goop's recent "spring edit" e-mail, I requested a six-pack. "You don't want to look fake," Evans responded kindly, instead adding subtle shadows to the perimeter of of my abdominal area. Some celebrities add shadows to the top and middle, she said, but it "wouldn't look real" on me. She also darkened the sides of my torso to give a slimming effect. What can she not fix with her magic spray? "Tummy rolls."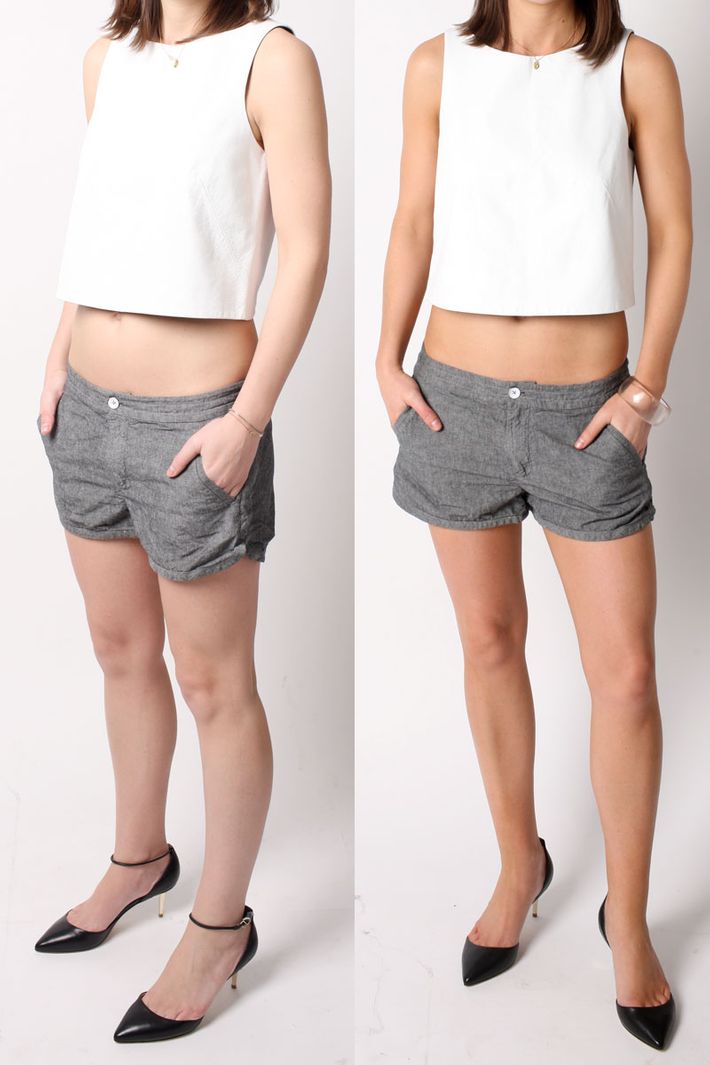 When it came to my limbs, Evans swept question-mark shapes over my shoulders to highlight my arm muscles. She then had me stand sideways on one foot. "The most common mistake people make with tanning is not getting the insides of their legs," she said. This is particularly important, she noted, because adding shadow to the inner thighs makes them look more slender. She also shaded the areas around my hips and under my butt cheeks, which makes the whole area look more chiseled — not an adjective I'd normally use to describe it.
But the spot that benefited most from Evans's spray gun was, to my surprise, my chest — proof that contours really can conjure something out of nothing. Evans sprayed between my boobs, which made me look like I had cleavage, and underneath them, which made them look larger overall. Normally when I wear low-cut shirts, it's anticlimactic, but when I put the Kenzo top back on afterwards, my fake cleavage looked real. I was impressed.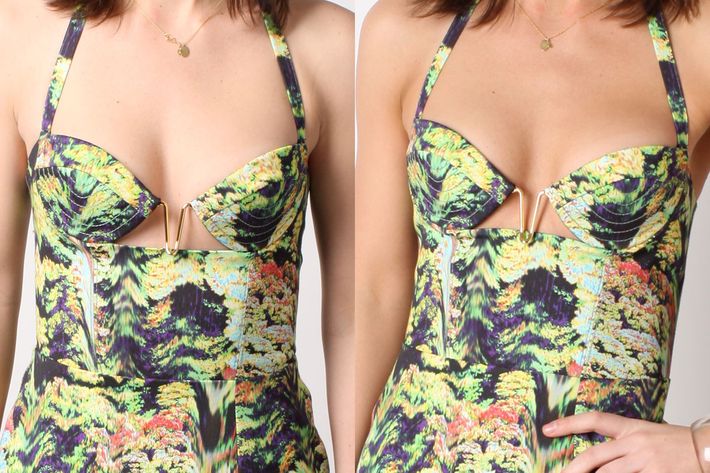 Of course, it's currently snowing in New York and the temperature hovered in the thirties all weekend, so my spray tan hasn't gotten much real-world play since my photo shoot. And yes, there were the usual downsides, like orange-y bedsheets and that DHA smell, which went away after I showered. Still, there's a clear difference in my "before" and "after" pictures, and lots of people asked me if I'd gone on vacation recently. Should you want help easing your wintery body back into the open air come shorts season, a contouring session — which runs from $55 to $140 at St. Tropez–sanctioned salons — might be worth a try.