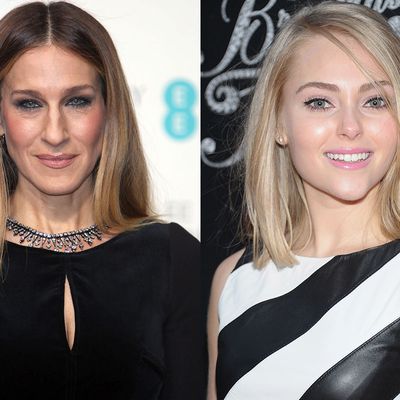 In Net-A-Porter's magazine earlier this month, Sarah Jessica Parker said watching AnnaSophia Robb — a "lovely girl" — portray a young Carrie Bradshaw on the Sex and the City prequel series The Carrie Diaries was "odd." "I think it's one of those tests of your generosity," Parker said, adding that she nonetheless wanted Robb to "feel good" about the role. Today, Sex and the City writer Candace Bushnell is on the Daily Beast to remind SJP who created Carrie and therefore has the final verdict on Robb's performance. She said:
"The reality is, that's showbiz. Sarah Jessica's first part was somebody else's part. She played Annie on Broadway. She understands how these things work."
We have yet to see anyone ask Parker about Quvenzhané Wallis's casting in the latest Annie remake. Bushnell, meanwhile, has no shortage of nice things to say about Robb. In fact, she thinks she's nailing Carrie. Some might even say ASR plays a young SJP better than SJP.