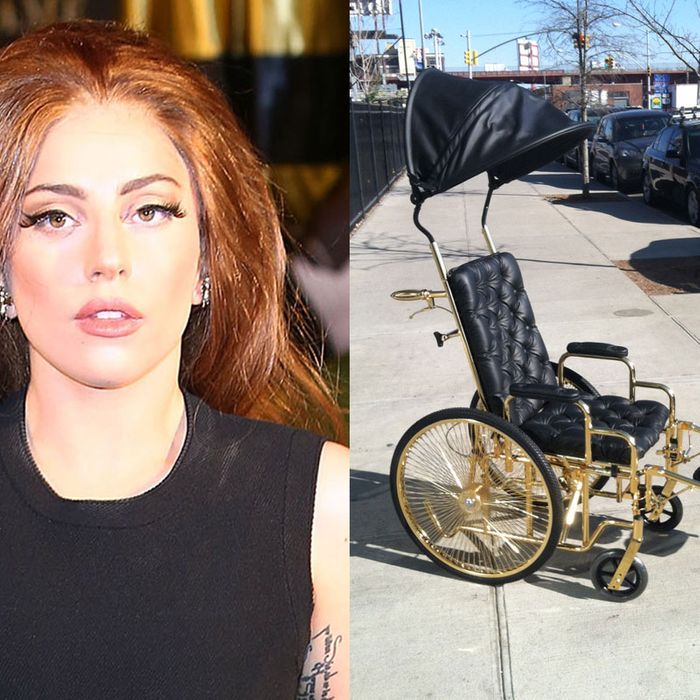 Photo: Getty Images, Ken Borochov
In mid-February, Mother Monster disclosed that she was "suffering from synovitis, an inflammation of the joints that can cause significant pain, significant swelling and reduced range of motion," ABC News wrote. "Subsequent tests revealed that she had a labral tear in her right hip," and at the end of the month, she had surgery to mend a torn labrum. Though she scrapped the rest of her "Born This Way" tour, and was advised to take it easy, she plans to recover Gaga-style — in a 24-karat-gold-plated chair with a black buffed, tufted calf leather seat, complete with a removable leather canopy, made by Ken Borochov of luxury jewelry line Mordekai. Borochov previously created a wearable cage, a crown, and a set of armor nails that became known as the Claw for the pop star, but he'd never been tasked with something quite like this.
"I was dreaming about it, though," he told the Cut earlier today. "I found out about her injury and then I thought, God, I want to make her an encrusted walking stick. And the next day, I got a call from her stylist [Brandon Maxwell] and he asked me, 'Do you want to make her a wheelchair?' And I was like, yes … I kind of feel like it fits into the universe that I'm trying to make." Borochov had only one week to put together the "exquisite, one-of-kind" chariot. "At the same time, [it has] a rock and roll, street feel to it, which is why I did the spokes — the wheels — like that because I really wanted a cool, Snoop Dogg quality."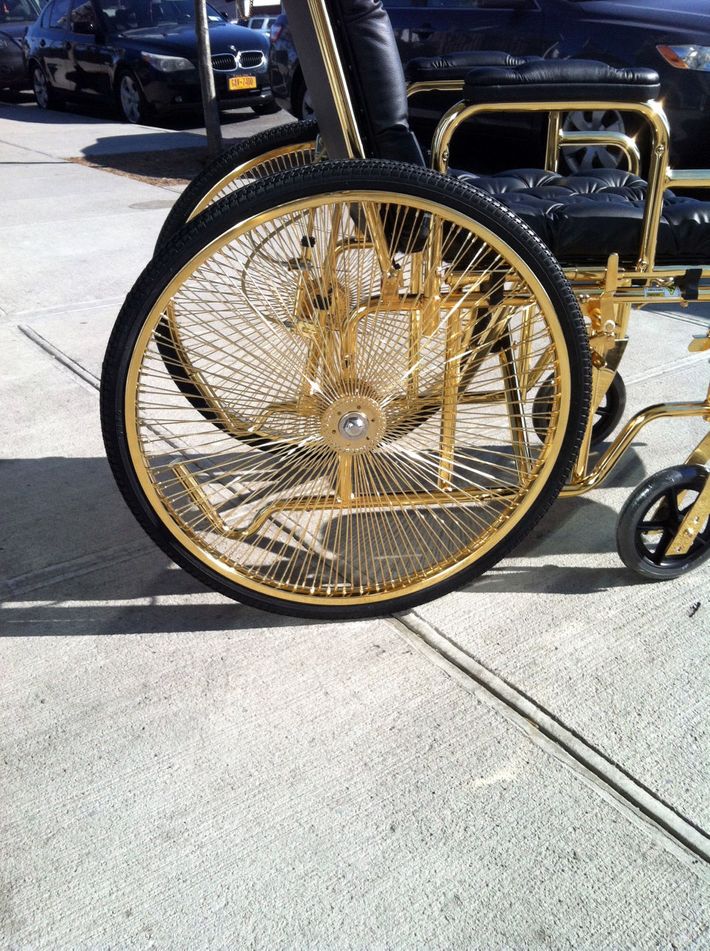 Borochov isn't sure how long Lady Gaga has to use the chair (according to ABC News, "The rehabilitation or recovery after this type of surgery is generally around four months"), but in the event that one of her rims gets jacked, Mother Monster can always request to be carried, for old time's sake.