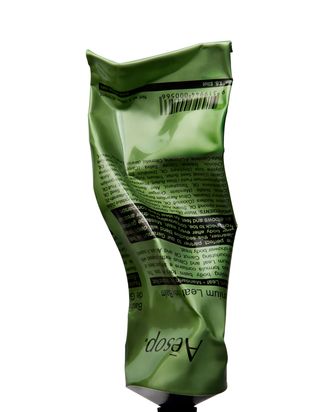 Suzanne Santos, Australian country manager of skin care brand Aesop, tells me she does not like the phrase "cult beauty product." But that doesn't mean this Melbourne brand doesn't have a cultish following. When I tell friends I'm going to interview Santos, their reaction is unanimously enthusiastic, with a feeling that those who have discovered the brand are in on a treasured secret. People talk of the incredible fragrance of the products, and the impeccably designed stores. Using something from Aesop feels special, they say.
This popularity is interesting when you note that Aesop shuns some of the marketing techniques widely embraced by other brands. The packaging is uniform — 79 formulas housed in near-identical brown bottles and squeezable beige tubes. It is designed this way so as not to detract attention from the products inside. And while other companies shout about organic, natural ingredients, the most prominent names on the jar of something called B Triple C Facial Balancing Gel that Santos hands me are D-panthenol, magnesium ascorbyl phosphate, and sodium lactate.
"We don't call ourselves natural," she says, marking it as a deliberate point of difference. "We fit into a category that is really comfortable for us and really uncomfortable for other brands. We celebrate science, and understand that you need a blend of well-chosen man-made ingredients with exceptional botanical ingredients to make remarkable products."
Santos has been Aesop founder Dennis Paphitis's second-in-command since he launched the brand 26 years ago. He has spoken highly of her, telling one interviewer, "Nothing is simple with Suzanne, but everything is richer. She questions everything rigorously … She's always inspiring those around her to move further, push harder and aim higher."
The feeling is mutual. Santos is entirely devoted to Aesop and speaks of Paphitis in glowing terms. Few people can say they've worked for one company for quarter of a century and never fallen out of love with it — but she is clearly one of them. While down in Australia, the Cut asked her about this lasting relationship, the importance of a great scent, and working at a beauty company that's uninfluenced by its competitors.
You've been in the company since the beginning. How did that come about?
I left university too early. I needed to go back to finish my studies, and I was looking for an environment where I could work with little commitment at the same time. I began working for Dennis at Aesop, talking to people, receiving them as they arrived and helping them. I've worked for him ever since. I never lose sight of the genuine fortune of meeting a man like him and the impact it's had on my life. In a lifetime you meet hundreds or thousands of people, but I don't think you meet even a handful who are truly extraordinary.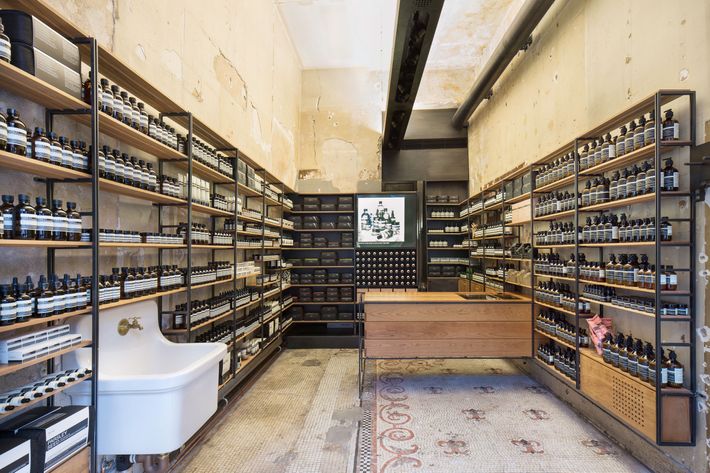 For somebody who wanders into an Aesop store by chance, what makes that such a discovery?
Our visual marketing is often the first trigger for people — we don't advertise, but the stores are an incredible marketing tool. There's also the aromatic experience — we burn our oils in the stores all day. But one of the biggest differences is the caliber of the people that we employ, and the manner in which they communicate, educating quickly and offering solutions in a respectfully succinct way. Ultimately, it's about ensuring the best end result for the customer.
Tell me a bit about the products and how they're developed.
We don't make products on the basis of needing a new launch, or to be at war against others. We don't look at what other companies are doing and we're not influenced by trends. We don't do celebrity endorsement. We don't speak about anti-aging — we talk about health. We have a very large team of people who look at the best ingredients to complement what we do, so if we can modify an ingredient that we use, because something new on the market is seen to have overshadowed it, then we'll do that. We control everything that happens within the formulation, the trials, and the final manufacture — I'm sure we're charged with the accusation of being obsessive about it.
All your products smell incredible. Is that a priority in developing a new product?
Not one of those 79 formulas has been contrived to smell good. The ingredients are chosen because they will deliver the outcome that we want for your skin. The aromas are an extraordinary benefit for us, but they're not sought in a formulaic way.
You have wonderful skin. Which products do you use?
I use everything, because you cannot stand in a store and talk to somebody about a product that has not been on your face. It is interesting to me how variable our skin is. I can open a jar based on what I feel I need at that time — how tired I am, or what the climate is. The idea that you would choose one cleanser, moisturizer, and toner and that would become your life's commitment, really moves against the manner in which we live. One cleanser is not enough, and one moisturizer is not enough. Maybe you need more vitamins on your skin sometimes, and on other occasions you need something with more astringent qualities. The way we approach it is akin to apparel, in that you have days that are colder and days that are hotter, and that should affect the clothing that you wear and your skin care, too. But I always use a lot of moisturizer. That's absolutely vital, especially for anyone who lives in the city — and that's the majority of people to whom we sell.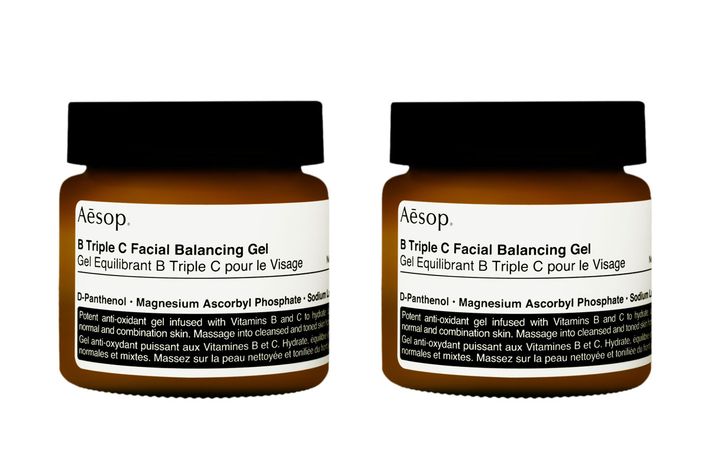 So what else do city dwellers need?
To drink more water and eat well. But from a topical perspective, you need more moisture, you need to use hydrating rich toners and cleansers that don't strip your skin, and you need to use a much larger blob than you think you do. The idea that a teardrop-size quantity of moisturizer could be effective in moisturizing your face and neck is just ridiculous and unrealistic. Your skin needs a strong boost of moisture twice a day. An Aesop product should last around three months — if you have it much longer than that, you're probably using too low a dosage. City dwellers also need to learn to exfoliate — taking an extra twenty seconds in the bathroom three times a week, just to get the dead skin off your face, is an incredible thing. And look for products containing antioxidants to protect your skin. Many of our products contain vitamin C, which is enormously important; my favorites are B Triple C Facial Balancing Gel and Perfect Facial Hydrating Cream.
When we shop for skin care products, we're bombarded with conflicting information from different brands. I think it's very difficult to know who to trust and where you should be spending your money.
I agree completely. One place to start is with those around you and what they're using. You should also be guided by the caliber of the conversation that's conducted at whichever counter you go to. We can all sense something that's disingenuous, so use your instinct. If you feel you're being wrongly sold to, or that the cost of the product is inappropriate for your life, don't do it. We made an effortless decision at the very beginning that no woman or man would feel that they'd been overly sold to, and that if they needed to sample something, they could walk away without feeling guilty for having done so.
On Aesop.com and the Aesop Twitter account, the brand curates interesting content that has nothing to do with skin care.
There are far more interesting things on this earth than skin care, and even prior to the digital world, we were integrating those elements into the way that we projected the brand. There are incredible interviews on our website, and articles about architecture, literature, history, and design that are there to stimulate your thoughts. We believe that those who read them and come to the stores will understand — that our customer gets it, and in fact they want it. The strength of our brand is in that cultural exchange.