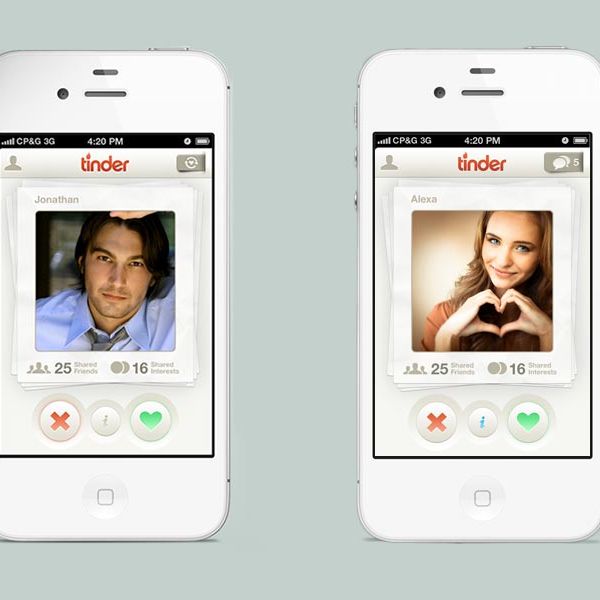 At a party this past weekend, when things were winding down, I noticed one of my close gay friends had retreated to his cell phone — an annoying yet inevitable habit among my single twentysomething friends. I just assumed he was drunk and wanted to browse Grindr, the gay "dating" app that gets you geolocationally laid with a few pics and platitudes, but he told me he was instead on Tinder — an app I'd never heard of two weeks ago (even though Jenna Wortham blogged about it recently in the Times, noting it launched in October). In the last month, it seems to have become the pretty young thing of urban-minded dating apps. Everyone I know is suddenly talking about it.
Judging from what happened next at the party, I can see why: My friend put his phone on the table and a small cluster of people gathered around, guys and girls, married and single. Tinder is basically Hot or Not — the insidious early-aughts game that allowed you to vote on someone's attractiveness —  but with sweeter intentions. You upload three or four photos from your Facebook page, and then others (men, women, it's open-season here so long as you choose your own preferences) who have done the same are displayed on your screen one by one. You swipe through them, approving or denying. You can only chat and exchange contact details if you both are into it, otherwise it stays anonymous. In either case, it's basically a party game, with a pleasing design, curly typefaces, and non-threatening levels of competition or commitment. 
Here is, for the first time, a dating app that has the same sense of lightness and fun inherent to picking up someone in a bar or flirting on the train. It has the ease and shallow leanings of Grindr (at the end of the day, you're judging someone's pre-chosen photos) without the straight-up sexual appetite; you don't want to watch your friends browse Grindr in the same way you don't want to watch your friends have sex. Like Grouper, a group-dating site that was popular among New York straight singles last year, Tinder links to Facebook for photos and names, but doesn't publish any information on the site, so you get authenticity and identity verification without revealing to your whole newsfeed that you're looking for a date. And unlike OkCupid or Match or any of the 1.0 dating sites, you don't have to worry about being creeped on by someone you'd never have any intention of seeing (or sleeping with) had you encountered them in real life. It's not surprising to hear that one of the founders, in contrast to all other dating apps, is a woman. 
A female friend of mine down in D.C. told me about an e-mail she got this week from one of her friends, extolling the virtues of the program, and the fact that it felt great to sit and judge and/or trade compliments with complete strangers, ones you might want to chat with privately and meet in person. Just like dating, Tinder actually seems to be working for all sorts of people — gay, straight, bi, whatever — in a way that's eluded all other similar sites. If Grindr is for gay men, and Blendr is "Grindr for women," and eHarmony, etc. is the digitalization of matchmaking, then Tinder is just an online version of IRL dating: You're a lot more likely to go for it when you get to laugh about it with friends, too.