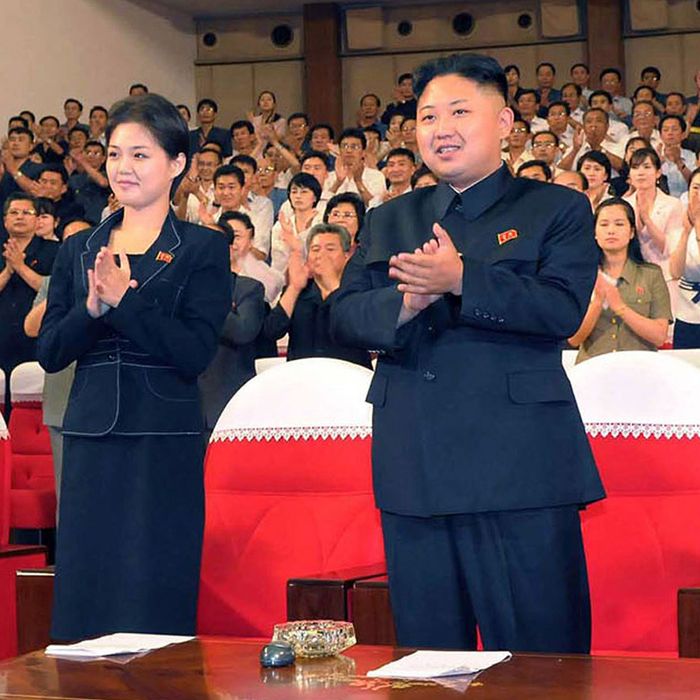 Photo: KNS/AFP/Getty Images
In December, at a memorial service on the first anniversary of Kim Jong-il's death, the wife of Kim Jong-un looked "heavily pregnant," according to the Telegraph, contributing to speculation that she stayed out of the spotlight for 50 days because she was with child (either that, or "she might have fallen foul of the old guard in the North Korean regime for dressing too fashionably or failing to be sufficiently respectful to conservative members of the party or government").
Now, South Korean sources have told the Washington Free Beacon that Ri Sol-ju gave birth to a baby at the end of December, but the sex of the child is unknown. Michael Madden, editor of the online newsletter North Korea Leadership Watch, said, "If it was a boy, [the North Koreans] would have made an announcement," which means the maybe-baby is … a girl? Perhaps even a premature girl, writes South Korean newspaper Chosun Ilbo: "North Korean authorities may have either induced Ri to go into labor at the end of last year or have her child through caesarean section in order to bear a child in 2012, which marks 100 years since founder Kim Il-sung's birth." For now, there's really only one diplomat who can confirm either way — Kim Jong-un's "friend for life," Dennis Rodman.