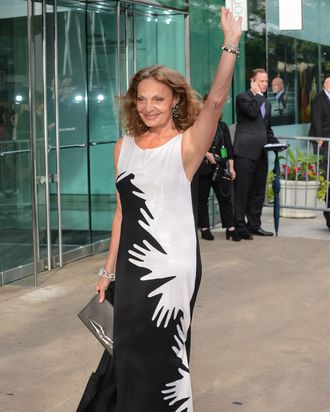 Diane Von Furstenberg.
Photo: Ray Tamarra/Getty Images
Since 2010, Diane von Furstenberg has hosted her own eponymous awards show at the conclusion of the annual Women in the World Summit at the U.N. This year, her lifetime achievement award — which has previously been given to Oprah Winfrey and Hillary Clinton — will go to Good Morning America's Robin Roberts. Meanwhile, the Inspiration Award will be awarded to model and philanthropist Natalia Vodianova. Several other recipients will be announced at the ceremony, and all winners will receive $50,000 grants from the Diller–von Furstenberg Family Foundation to support their respective organizations and further their charity work, according to the organization's press release. In other words, this is yet another warm-fuzzy reason to trust DVF in all life matters.