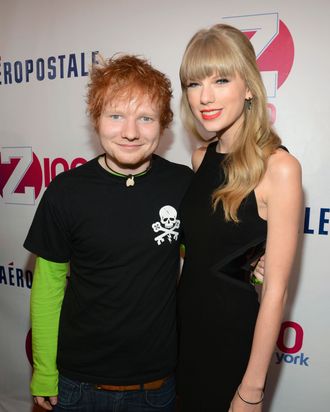 Photo: Kevin Mazur/WireImage
When it comes to self-esteem, the most disastrous thing that can happen to an average-looking person is being "romantically connected" to a beautiful celebrity. As soon as your average-looking bedhead lands on the front page of the Daily Mail next to the not-average face of, say, Taylor Swift, your looks will be ridiculed. Your rumored lover's fans will describe your every flaw in excruciating detail, to prove you are not worthy. Onlookers will express shock that you, an average-looking person, would dare express sexuality in the presence of a not-average-looking person.
Such is the plight of British musician Ed Sheeran, who is rumored to have "spent the night together" with Taylor Swift in a hotel room last week. Last time rumors of a Sheeran-Swift hook-up surfaced (Sheeran toured with Swift and had "Red" tattooed on his arm), he was forced to admit, "We had great fun when we met, but I don't think I'm Taylor's type. If you look at all the dudes she's dated, they're all tall, brown hair, brown eyes, very attractive and all the girls scream for them. I'm chubby, ginger with blue eyes." Though a celebrity in his own right, Sheeran knows he is not of the impossibly attractive Ken doll variety.
Swift, however, is of the impossibly attractive Barbie doll variety. Now, owing to the disparity, Sheeran must endure an onslaught of superficial criticism. "Seriously?" asks one headline. "Obvious Leprechaun," notes another. And in the brutal anarchy of gossip website commenting: "Hobbit," "weird-looking," "fornicating with a hobbit," "ugly," "I thought that the redhead was a girl," "Attractive: No," "desperation must be kicking in." It's not unlike the hell that breaks loose whenever Mildred Baena or Deborra-Lee Furness are discussed.
For what it's worth, teen girls in Great Britain find Ed Sheeran very attractive. Look at all this fan fiction about him.