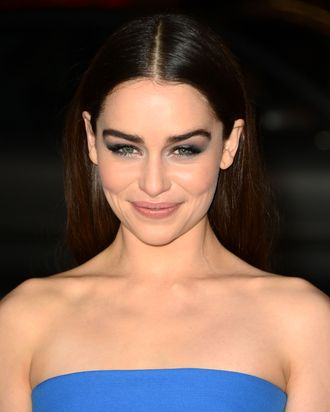 Photo: Jason Merritt/Getty Images
Last night, actress Emilia Clarke — Game of Thrones' dragon mother of three — walked the red carpet for the premiere of season three in a floor-length blue dress. Makeup artist Dawn Broussard gave her a silvery-gray smoky eye shadow (to complement the sleek structure and color of her dress) and paired it with a baby-pink, rose lip so as not to overpower the actress's natural features. "It's just really glamorous but also kind of innocent," she said of the completed look.
How do you like to prep her skin?
First, we used Biore's Acne Cleaning Scrub. She's been traveling between New York and L.A. because she's been doing the [Breakfast at Tiffany's] play as well as Game of Thrones, so this really calms the skin after all that travel. Then I apply serum to her skin and lightly run my fingers over her face to take off any excess that's there. And then I apply foundation with a brush.
So you won't add moisturizer or a primer before foundation?
Especially for the red carpet, if you start to add too much — moisture, primer, and mattifyer — I feel like it becomes a layering of too many products. Less is more.
What's the trick to keeping a smoky eye from going too night-clubby?
The mistake that a lot of people make is that they'll take the shadow too much above the crease. That's when it looks like a black eye and silly. I always apply it in one motion, like sweeping it outward with a brush but not letting it go above that crease line. Afterwards, I'll come back with a lighter eye shadow, apply it under the brow bone, like a highlighter of sorts. Anything that got too extended over the crease, I'll brush it up and into the end of the eyebrow for a more diffused finish. It needs to look seamless.
About those lashes, what's your secret?
I'll curl her natural lashes at the base and middle, two or three times to make sure they're super-curled. Then add black mascara. With individual lashes, I'll first layer in with the short length all across top lash line. I'll layer the heck out of them. Then just add medium length ones from the middle to outside corner of her eyes. Her lashes are not super-long, they're a decent size, but when you layer those short ones across first, it adds a depth to the lashes since the short lashes don't go past her real ones. It gives them thickness and texture because medium ones can look too piece-y alone and obvious that you're wearing fake lashes. It works well for daytime events, too. Also, I only use dark tinted glue on everyone, never the clear, because that sometimes leaves behind a little residue.
Any final eye tricks?
Under the lash line, where the lashes grow, I'll sharpen a black eyeliner pencil super-sharp and dot it in there as much as I can. Then with a super-fine brush, I'll go in and slightly smudge it. If you apply it in the waterline, it can close up the eye too much.
What do you give her to take in her bag for touch-ups later?
I have these small little empty containers that I buy at the makeup store and I'll make the lip combo myself and give it to her. Like tonight I used a baby pink matte lipstick with a cream-colored rose lipstick. So I'll give her that blotting papers, mini-tooth-brushy things, some mints. I really want to figure out some little translucent powder to send along with her. Like a miniature little powder, with a miniature little brush.
Zoom on the shot above for a closer look at these techniques.