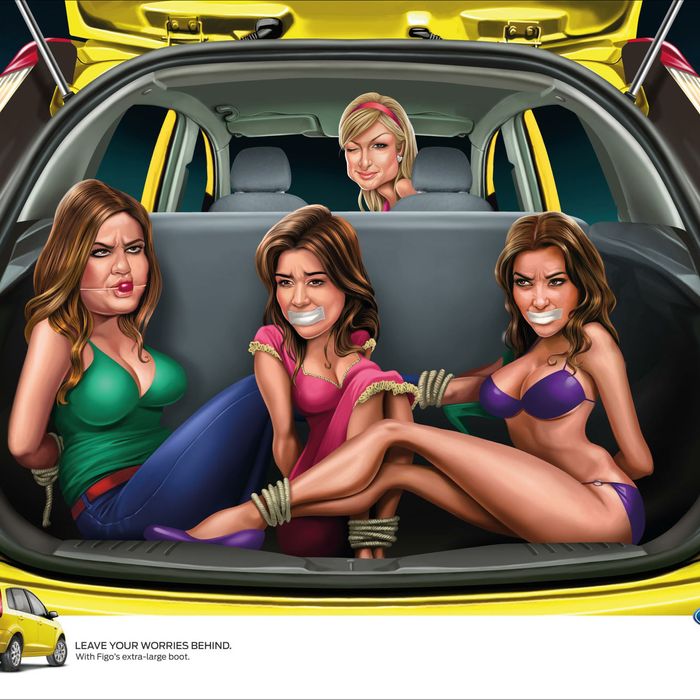 Over the weekend, images from an India-based ad campaign for the new Ford Figo somehow leaked onto the Internet. The three different illustrated ads feature variations on the same theme: One celebrity rides shotgun in the car with his or her purported enemies bound, gagged, and stuffed in the trunk. Beneath the image is the tagline, "Leave Your Worries Behind." Which doesn't even make sense! If you're leaving your worries behind, you're driving away from them, not taking them with you.
For obvious reasons, these ads ruffled lots of feathers, especially two that showed captive women in provocative clothing: in one, Paris Hilton winks over her shoulder while Kim, Kourtney, and Khloe Kardashian struggle in their skimpy outfits; in another, Silvio Berlusconi rides with fearful-looking girls in black latex. These came across as particularly tasteless in the wake of India's brand new anti-rape law, which passed last week.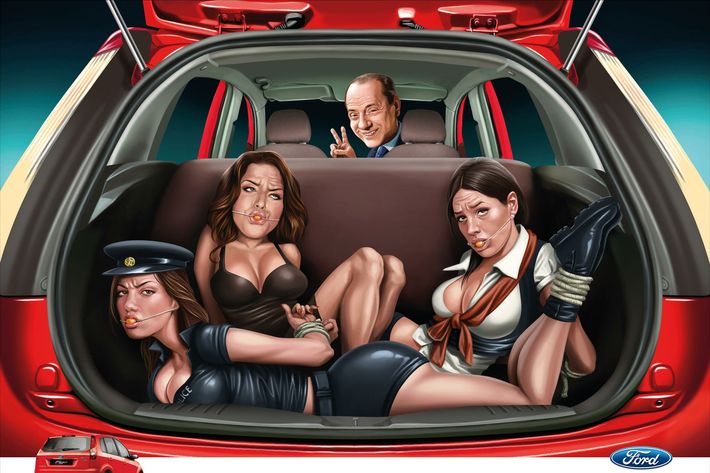 A third image, which depicts German racecar driver Michael Schumacher driving off with his rivals Sebastian Vettel, Fernando Alonso, and Lewis Hamilton, got less play. Sure, the rape overtones weren't as immediately evident, so maybe people weren't as offended by this one. But hey, men get raped, too! Plus, equal-opportunity violence culture isn't any better than violence against women.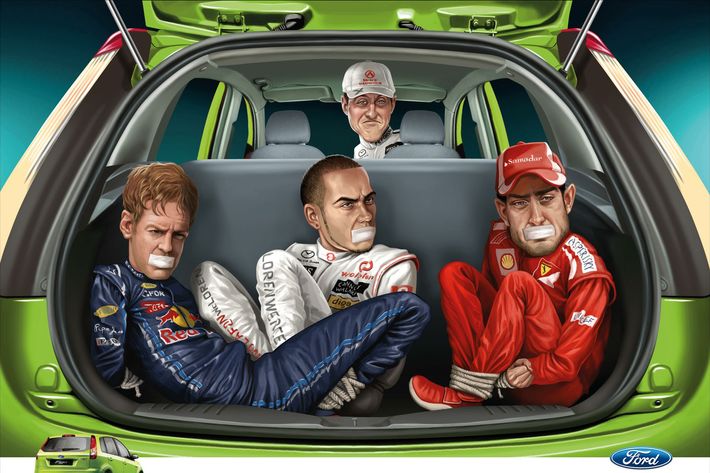 Anyway, it should come as no surprise that Ford is terribly embarrassed by all this and has released an apology statement, via CNBC:
We deeply regret this incident and agree with our agency partners that it should have never happened. The posters are contrary to the standards of professionalism and decency within Ford and our agency partners. Together with our partners, we are reviewing approval and oversight processes to help ensure nothing like this ever happens again.
Their ad agency, WPP, is also very sorry and maintains that the ads were never meant to be seen by the public:
We deeply regret the publishing of posters that were distasteful and contrary to the standards of professionalism and decency within WPP Group. These posters were never intended for paid publication and should never have been created, let alone uploaded to the Internet. This was the result of individuals acting without proper oversight and appropriate actions have been taken within the agency where they work to deal with the situation.
In other words, some people got canned, and rightfully so.