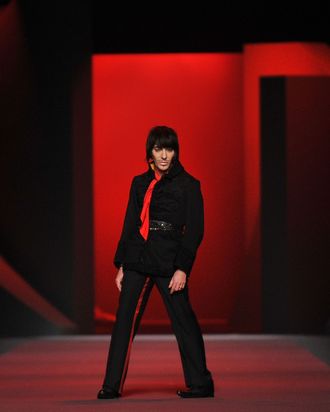 Galliano.
Photo: Pascal Le Segretain/Getty Images
Designer John Galliano's lawsuit against his former employers at LVMH advanced to the next step today: A Paris court set a hearing date for Galliano to seek damages for the termination of his many contracts with Christian Dior and his eponymous label — which, of course, were the result of his scandalous anti-Semitic outburst in a Paris café in 2011.
This is an exceptionally tricky case, since Galliano had many different contracts for his various obligations to the brands and their parent company, as well as some fabulous perks and a generous clothing allowance. Right now, his lawyer is still trying to convince the judge that Galliano was a salaried employee rather than an independent contractor, as LVMH claims. (As you can imagine, there's lots of fine print and legal jargon involved.) If the court agrees with Galliano, his case will continue, but it's unclear how much money he wants, WWD reports.
The court date seems ages away — October 24, which is particularly far off in fashion time — so Galliano has months to keep edging his way back into the industry's favor beforehand. In February, he quietly commenced a residency at Oscar de la Renta's studio in New York, where he helped the well-respected American designer with his latest collection. De la Renta hinted that Galliano would stay indefinitely, so it's quite possible we'll see more of him and his work soon.