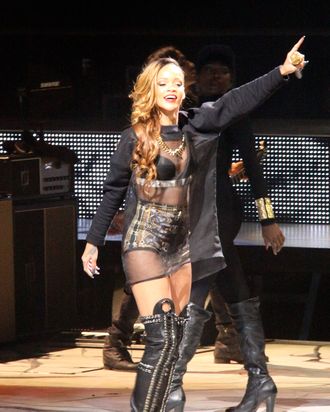 Photo: S Fernandez /Splash News/Corbis
The HBIC-slash-designer took the stage at the First Niagara Center in Buffalo, New York, on Friday night wearing not a skirt with sleeves from her River Island line (that one of us might own), but custom Givenchy couture — specifically, "a floor-sweeping ruffled silk crepe cape in black with a embroidered collar and a pair of black-and-white leather thigh-high boots with lacing details," WWD writes. Creative director Riccardo Tisci also made the layers underneath her cloak, "a pair of couture goggles," and a shark tooth necklace. He said the entire ensemble represented "female empowerment and urban haute couture elegance," and called Rihanna "punk and talented … she is the face of her generation."
Kanye West must be licking his wounds. Last week, he bemoaned his inability to pass off Tisci's skirts as concertwear, telling Hot97:
What happens with these type of judges and people who are viewers, when you come in, I had the pink polo and the backpack, then I'm checking all the boxes for that Tribe Called Quest–era and J Dilla and all that, so they champion it. They don't like Givenchy-Kanye. They don't like Kanye in a kilt. They don't like Kanye in a relationship.
Well, they don't like Rihanna in a relationship, but they probably do like Rihanna in a kilt, and they certainly do like Givenchy-Rihanna.