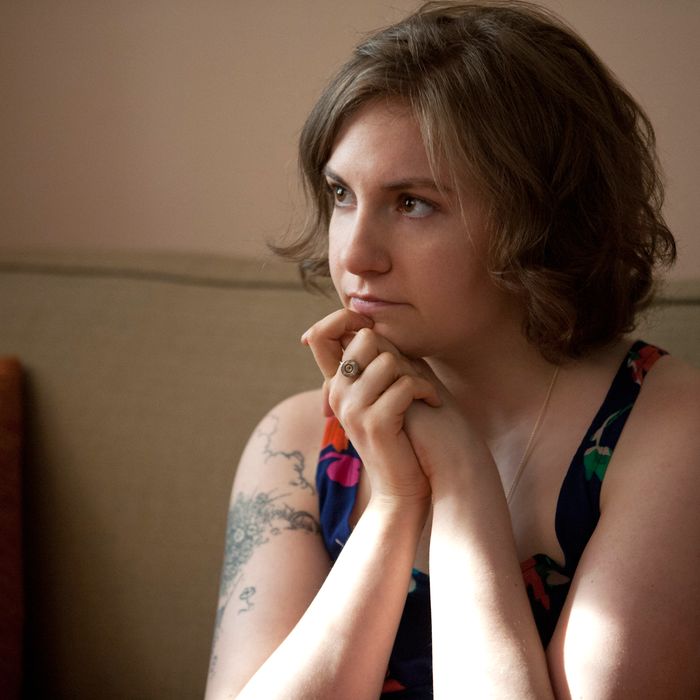 Hannah goes to the shrink.
Photo: Jessica Miglio/HBO
Despite Jessa's absence in last night's episode of Girls, there was a whirlwind of interesting outfits (Marnie's bag-lady pants!), and a couple of great cameos (Judy Collins in sequins! Carol Kane in gold lamé!). Meanwhile, costume designer Jenn Rogien translated Hannah's recurring OCD tendencies into her wardrobe with a series of "she's come undone" details. Read on for her breakdown of the episode's looks.
Hannah wore a lot of florals in this episode. Why was that? 
It was a tie-back to season one, when she wears a lot of florals. But in these cases, the pattern was scattered — the florals don't repeat in a predictable way. It's supposed to convey her disorderly frame of mind, since she's really losing it in this episode. Color-wise, the flowers are a little muddy. There's nothing charming about them, which is an attempt to underscore what she's going through.
She wore some cute necklaces that we've never seen before.
We did sort of a visual joke with her jewelry in this episode. The first necklace that she wore was a button, to show that she's coming undone. It's by this great young jewelry designer, Samantha Faye. And then the second one she wears is a zipper, to show that she's coming unzipped. So there were little inside jokes, visual puns about coming undone.
Shoshanna wore some crazy outfits — and her side braid was really impressive.
Yeah, a lot happened to her this episode. She had one of her first major fights with Ray, and she's really asserting herself in a new way. She wore a fitted skirt instead of a flared one, which is a first for her. She wore heels through almost the entire episode. We've peppered in heels here and there to show that she's growing up a little bit, but this was the first time that she wore them consistently.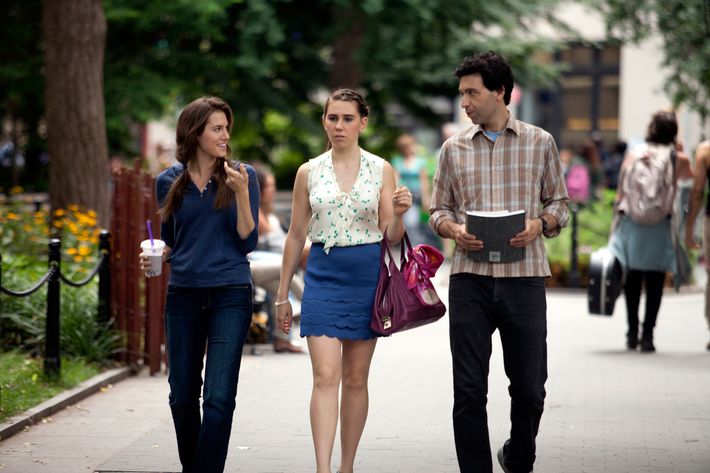 How did you pick her red party dress, with the big bow?
Shoshanna has worn bows a lot before, but that bright red was totally new for her, as were the black patent wedges. She was really committed to her party look.
Meanwhile, Marnie looks like she's totally coming unraveled. Her jeans are too long and she looks vaguely bag-ladyish, which is so unlike her.
For the first time ever, Marnie looks like she really doesn't care what she's wearing. Those are her go-to jeans, but she normally wears them with heels, and here she wears them with flip-flops. She finds out that Charlie has moved on, not only emotionally, but professionally as well, and we were reflecting that she's teetering on an edge. It's possibly her least-put-together outfit ever.
That scene when Adam goes to AA had a bunch of amazing characters in it, particularly the guy in that T-shirt that says, "Too many freaks, not enough circuses."
Yes! I loved that scene. And that guy is actually one of our crew members, so it was really fun to see him as an actor. He has a whole collection of T-shirts with amazing sarcastic sayings on them, so that shirt was his own. It seemed like just the right silly T-shirt for the scene.
And Carol Kane's character, Chloris, wears that amazing silver shirt.
It was a gold lamé top. We thought it would say a lot in a very succinct way. You totally believe that that woman is from Brooklyn and raised her daughter in Sheepshead Bay. There are women like Chloris who wear shirts like that daily.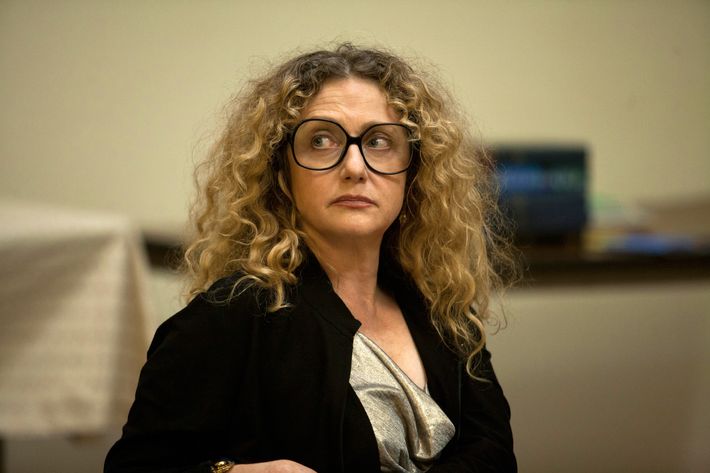 I thought it was endearing how hard Hannah was trying to look nice for her parents.
She was definitely trying to make an effort. But she's also trying to cover up the fact that she's losing it. That striped dress she wears to go to the Carlyle was a little bit off. The gray color washed her out, and she's a little bit sweaty the whole time. You probably didn't notice, but we altered that dress so that it had eight buttons down the front, to tie into the counting. We also wanted her to not look as confident. She's not out there wearing her favorite pair of shorteralls, or a kooky combination of things that she put together while she was in a good mood. She's trying to conceal the fact that she's falling apart.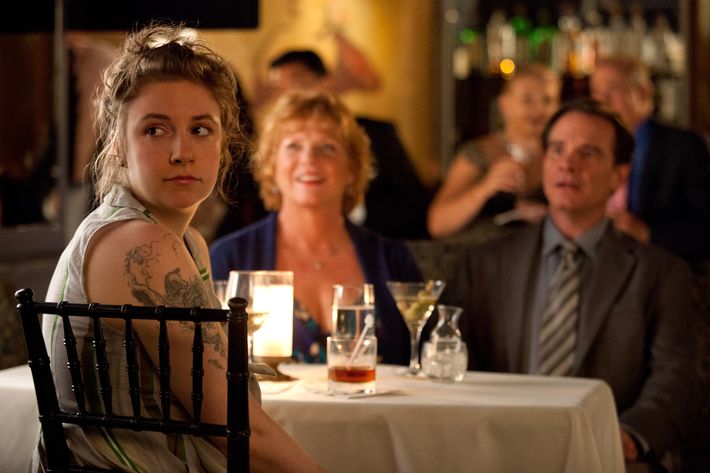 And when she goes to the psychologist, she wears these very bright jewel tones, which seemed like a bold move for the shrink's office.
It was an effort for her to appear somewhat put-together, and not very successfully. The tank top reveals too much, and the skirt is too short, and the colors clash. It doesn't seem like the thing you would choose to convince a doctor that you're stable.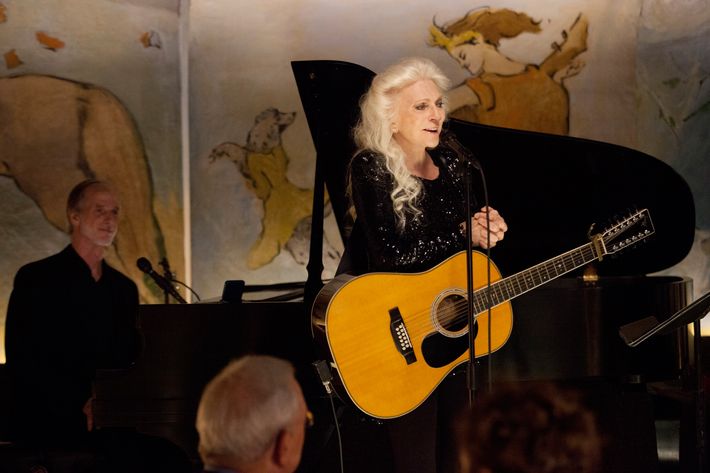 Did you get to pick out Judy Collins's fabulous sparkly dress?
No, she was already in performances so she has her own team and we just captured her show. That dress was her own.